106
« on: May 21, 2008, 09:02:10 am »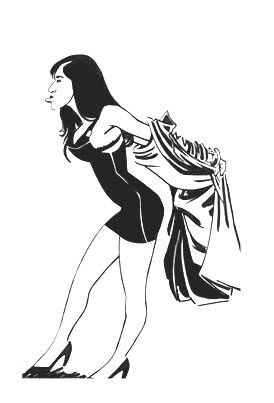 If anyone was reading comic books 20 years ago right about the time I stopped reading, you might have noticed in the Marvel books, inside the infamous
Bullpen Bulletins
, a
survey-series
filled out by a certain maestro. A pretty
HEF
-ty resume, wouldn't you say?
PROFILE: DWAYNE McDUFFIE

Assistant Editor on:
Special projects like the Marvel press posters, movie and TV adaptations, including INDIANA JONES & THE LAST CRUSADE, WHO FRAMED ROGER RABBIT? THE X-MEN cartoon graphic novel, the Punisher movie, A NIGHTMARE ON ELM STREET Custom comics, toy tie-ins and anything that isn't a regular monthly comic.
Marvel freelance credits (present):
Writer on the DAMAGE CONTROL Limited Series; the DEATHLOK Bookshelf Limited Series; a CAPTAIN MARVEL serial for SOLO AVENGERS; a SHE-HULK Graphic Novel
; a GIANT MAN serial for Marvel Comics Presents; and the upcoming MORTON DOWNEY JR. black-and-white comic (you think I'm kidding, don't you?)
My hobbies are:
Physics, reading, scowling, pushing my luck, spiraling into depression, getting and losing unsual jobs, sneaking past the "Guardian Angels" who won't let me into my apartment building (and what's the deal w/ those hats they wear? Are they supposed to be members of the Racoon Lodge, or what?) watching movies, whining.
The single work which I am most proud of is:
All things considered, pretty disappointing.
My pet peeves are:
Dead.
My place of birth is:
Detroit, Michigan
My greatest accomplishment outside the comics field is:
Really quite impressive, remind me to tell you about it sometime.
The oddest habit is
:
Approved by the comics code authority.
If they were making a movie of my life, I'd like to see my part played by:
Albert Brooks or was that Avery Brooks?
The reason I got into comics was:
So I could hit Wolverine in the face w/ a pie.
People who knew me in high school thought I was:
Probably just joking.
My favorite performers are:
Miles Davis, Richard Pryor, Robin Williams, Billie Holiday, Oscar Peterson, Ornette Coleman, Katherine Hepburn, Peter O' Toole, George Clinton, The Smothers Brothers, Return to Forever and the Firesign Theater.
The last good book I read was:
Satan: His Psychotherapy and Cure by the Unfortunate Dr. Kessler, J.S.P.S. by Jeremy Levin,
I'm in the midde of Tip O' Neil's Man of the House and it's good, too.
The last good movie I saw was:
Another Woman ...well, I liked it.
The biggest influences on my work include:
Ralph Ellison, Paddy Cheyefsky, Woody Allen, Fran Lebowitz, Toni Morrison, Robert Altman, Preston Sturges, Harold Ramis and the Lee Brothers, Stan & Spike.
My greatest unfulfilled ambition in the comics field is:
To write The Fantastic Four.
The worst part of my job is:
Telling people what I do for a living and listening to them tell me, "Really?! I just love Superman."
When nobody's looking I like to:
That's none of your business. Besides, all us kids do it. It didn't stunt my growth, either.
The one thing I really want the world to know about me is:
That deep down, I'm every bit as terrifying as I look.