46
« on: November 27, 2013, 11:37:39 pm »
Whoopi Goldberg Presents Moms Mabley
As part of
HBO
's documentary series,
'Whoopi Goldberg Presents Moms Mabley'
directed by
Whoopi Goldberg
is a collection of television clips and conversations by legendary performers
Harry Belafonte
,
Bill Cosby
,
Kathy Griffin
,
Arsenio Hall
,
Joan Rivers
,
Jerry Stiller
and friends. Many of them comment on what kind of impression the woman comedian[Mabley] had on their lives, their work and the entertainment world.
Unabashed & funny social commentary of the
Civil Rights Movement
(she personally knew
Martin Luther King Jr.
), her visit to the White House when LBJ was President of the United States and what she experienced in the 1960s through the 1970s is contained in the exploration.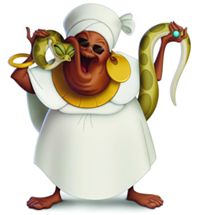 Did you know that
Moms Mabley
was also the inspiration to Mama Odie from Disney's
'The Princess & The Frog'
? (voiced by
Jennifer Lewis
).
The television clip that stood out to me was Ms. Mabley's appearance on the
Merv Griffin Show
. Merv asks her how was her trip to the South. She tells him that the people there loved her. In fact, they loved her so much that they named her after Roy Roger's horse, Trigger.
"Here, Trigger!"
"Hey, Trigger!"
...or least that's what she thinks they said.