2017 Awards Profile: Reginald Hudlin's 'Marshall' from Open Road Films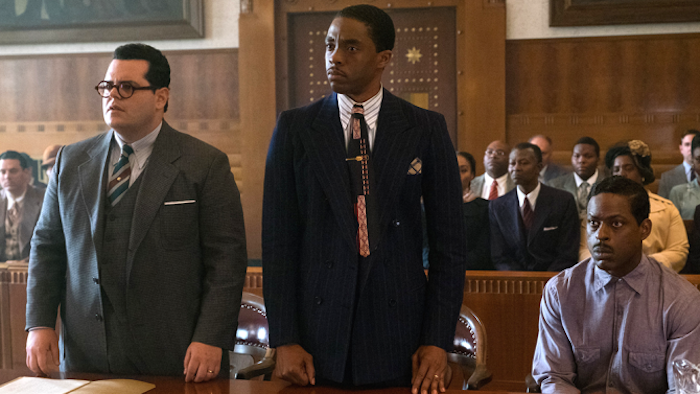 by Shane Slater
Welcome to the 2017 Awards Profile series, where we talk about high- and low-profile films coming to a theater near you at some point this year. We will analyze the potential for these films to be players for the Academy Awards, and while many of these have the potential to be recognized, many will not, either by quality or being pushed back to the following year. For the next few weeks, we will bring you a film every Monday and Wednesday to talk about their potential. If you have a suggestion, please include it in the comments below. If you missed a film, click on the tag or category Awards Profile.
FILM: "Marshall"
PRODUCERS: Paula Wagner, Reginald Hudlin, Jonathan Sanger, Jun Dong
DISTRIBUTOR: Open Road Films
DIRECTOR: Reginald Hudlin
WRITER: Jacob Koskoff, Michael Koskoff
CAST: Dan Stevens, Kate Hudson, Chadwick Boseman
SYNOPSIS (via iMDB): About a young Thurgood Marshall, the first African American Supreme Court Justice, as he battles through one of his career-defining cases.
WHY IT MIGHT SUCCEED:
With an October release date, historical setting and a famous man at the center of it all, "Marshall" certainly ticks all the boxes of a would-be Oscar contender. Add to that a cast of established and rising stars, and you have a true dark horse waiting to pounce on this upcoming award season. Indeed, headlining the ensemble is none other than Marvel's Black Panther – Chadwick Boseman. But before he suits up to defend Wakanda next year, Boseman returns to his former wheelhouse as Hollywood's go-to choice for biopics about famous black men. After turning in strong performances as Jackie Robinson and James Brown, he may finally break through with an Oscar nomination for the title role of Thurgood Marshall, the first African-American Supreme Court justice.
While not a traditional "cradle to grave" biopic, the premise sounds like it will offer Boseman some meaty dialogue to chew on. As he defends a black man accused of rape, the film could capture the hearts of Academy members, much like Gregory Peck in "To Kill a Mockingbird". Atticus Finch is a hard act to follow, but Boseman has already proven to be a captivating screen presence.
Apart from the performances – Sterling K. Brown is also one to watch as the accused – the film's success will rely heavily on the direction and writing. As the Academy continues to redefine what a typical Best Picture winner looks like, this courtroom drama will need to resonate visually and thematically to stick in the minds of voters. More known for his producing efforts (Oscar-nominated for "Django Unchained" and Emmy-nominated for the 2016 Oscar ceremony), Hudlin will have to be at his best. Likewise, Jacob Koskoff (co-writer with Michael Koskoff) will need to bring some of the Shakespearean eloquence of his last film "Macbeth".
If the quality is there, "Marshall" will benefit from a distributor that knows a thing or two about toppling a big-budget spectacle for Best Picture. Indeed, Open Road pulled off an impressive win when "Spotlight" edged out "The Revenant", an outcome that "Marshall" will hope to repeat. And that connection extends to the creative team, with Tom McArdle contributing his talents as film editor. Further down the line, we can also expect some visual flair from the gifted costume designer Ruth E .Carter.
WHY IT MIGHT NOT SUCCEED:
Even if the film is well-acted and handsomely produced, Hudlin's ability to deliver a satisfying drama is cause for concern. His previous outings as a film director have all been comedies. Will he be able to bring the gravitas required? As mentioned earlier, Academy tastes have been gradually changing. "Marshall" will therefore have to transcend "TNT movie" quality to feel artistically relevant. It's been decades since the last time a courtroom drama was nominated for Best Picture.
POTENTIAL OSCAR CATEGORIES IN PLAY:
Motion Picture
Director – Reginald Hudlin
Actor in a Leading Role – Chadwick Boseman
Actor in a Supporting Role – Sterling K. Brown
Original Screenplay – Jacob Koskoff & Michael Koskoff
Editing – Tom McArdle
Costume Design – Ruth E. Carter