BILLBOARD – June 4, 2019 – "Clarence Avant Documentary 'The Black Godfather' Draws Star-Studded Audience to LA Premiere" by Gail Mitchell.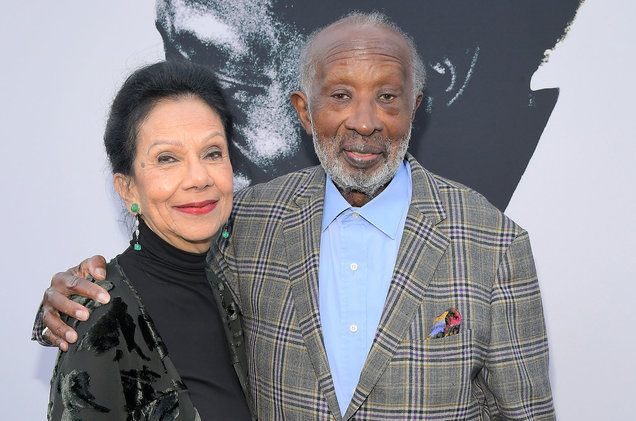 Quincy Jones, Jamie Foxx, Queen Latifah, Jimmy Kimmel & more attend screening of Netflix documentary, which debuts Friday.
Industry audiences can often be a tough crowd. But if the overwhelmingly thumbs-up reaction to Netflix's world premiere of The Black Godfather on Monday night is any indication, the documentary will have a successful must-see run when it bows on the streaming network Friday and in limited theatrical release in Los Angeles and New York on the same date.
That's because the multi-faceted career and life story of music industry veteran Clarence Avant — nicknamed the "Godfather of Black Music" — is a rollicking, two-hour ride from start to finish. Frequently laugh-out-loud funny, the documentary also doesn't shy away from low points in Avant's remarkable journey from high school dropout to artist manager, label executive, radio broadcaster, music publisher, powerhouse negotiator, social activist/philanthropist and Hollywood Walk of Fame inductee.
Well-known chapters in Avant's colorful career are documented in the film, like his mentorship of the hitmaking songwriting/production duos Jimmy Jam & Terry Lewis and Antonio "L.A." Reid and Kenneth "Babyface" Edmonds as well as Sony/ATV chairman/CEO Jon Platt (who named one of his twin sons after Avant). Hearing promise in the songs of an airplane assembly worker by the name of Bill Withers. Avant's later stint as chairman of Motown Records.
But other relatively unknown stories resonate even more — like how Avant came up with the name Sussex for his record label by asking himself what do people want? Success and sex. How he stopped ABC from launching Dick Clark's would-be rival to Don Cornelius' popular Soul Train franchise. Defying convention back in the day by signing white guitarist Dennis Coffey to his label and managing Argentine pianist-composer Lalo Schifrin. Nearly losing his home following a severe business downturn. Giving image marketing advice to record-setting baseball legend Hank Aaron. And Avant's legendary proclivity for cursing people out at any given moment to drive home a lesson or point of view. But the through line in everything that Avant achieved has remained consistent: to foster the next generation of black executives, artists, songwriter/producers, politicians and business entrepreneurs.
Helping the notoriously publicity-shy Avant tell his story ("I don't make speeches, I make deals," he says at one point) is a diverse array of artists, music industry executives, politicians, ex-presidents, close friends and family members — several of whom get very personal and emotional as they acknowledge their respect and love for the business-savvy raconteur. Beyond those aforementioned above, we're talking names like Quincy Jones, Snoop Dogg, Sean "Diddy" Combs, Universal chief Lucian Grainge, The Azoff Company chairman/CEO Irving Azoff, football legend Jim Brown, boxing icon Muhammad Ali, diplomat/civil rights activist Andrew Young and former presidents Bill Clinton and Barack Obama.
The documentary plays out like a 2.0 version of the game "six degrees of separation," because it's quite unbelievable the many people that Avant has touched in his lifetime. In fact, one of the oft-repeated refrains echoed by those recalling their first encounters with Avant: "Who the fuck is this guy?!" As someone notes later in the documentary, "His job was to move us forward."
Many of those featured in the documentary — and more — turned out for the world premiere at the Paramount Theater in Los Angeles. Spotted in the theater and later at the post-screening reception: Quincy Jones, Jamie Foxx, Sean Combs, Queen Latifah, Pharrell Williams, Ava DuVernay, Jam & Lewis, L.A. & Babyface, Norman Lear, Jimmy Kimmel, Vince Vaughn, Hank Aaron, Andrew Young, Courteney Cox and Jennifer Anniston, to name a few. And several were overheard saying that they learned things they'd never known about Avant after watching the film. Host for the evening was Netflix chief content officer and Avant's son-in-law Ted Sarandos.
The Black Godfather, produced by Avant's daughter Nicole Avant and directed by Reginald Hudlin, opens with Withers succinctly assessing Avant's skill set: "He puts people together and they do what they do." And it ends with Avant declaring, "I've lived a good life. If I wake up tomorrow as Warren Buffett, I'd have a better life." To say more about what happens in between would be giving away the store. Everyone needs to watch Avant's inspirational story and quiet power unfold for themselves.