BOOMERANG 25TH ANNIVERSARY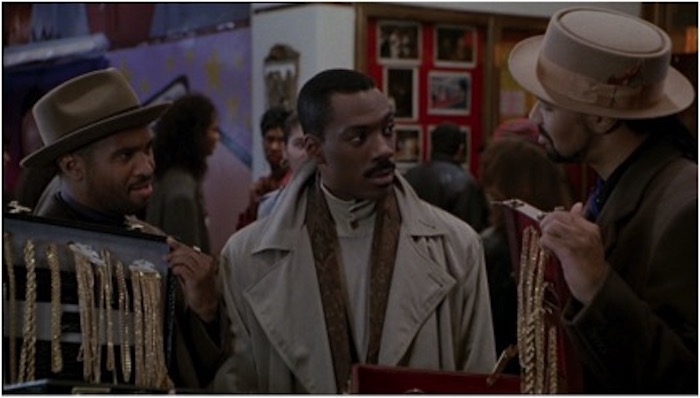 In celebration of 25 years of my second film BOOMERANG, here are film clips and selections from the soundtrack.
"Marcus darling!"
Eartha Kitt was the only cast member we had to practically beg to be in the film, but once she committed she was all in. She and Eddie basically improvised their scene in the bedroom together, and we got it all in one shot.
"pussy!"
Grace Jones was another cast member who totally committed to the role. Sometimes cast members could barely make it through a scene with her without cracking up. Off camera she was sweet and sometimes brought her son to set.
"coordinate!"
Filming the Thanksgiving dinner scene with Eddie Murphy, Martin Lawrence, David Alan Grier, Johnny Witherspoon and Bebe Drake was probably the funniest two days of my life.
"love should have brought your ass home last night!"
From the philosophy of Frances Cress Wesling to weave jokes and face slapping, we did everything in this movie. Love that music cue when Eddie is sneaking in. Marcus Miller is a genius.
A TRIBE CALLED QUEST – HOT SEX ON A PLATTER
I will never forget going down to the basement recording studio of LA Reid's Atlanta mansion and hearing this song for the first time. ATCQ killed it.
TONI BRAXTON – LOVE SHOULD HAVE BROUGHT YOU HOME
LA and Babyface executive produced the soundtrack. While watching the scene when Halle slaps Eddie, LA leaned in and said "that's a song title". And history was made….
PM DAWN – DIE WITHOUT YOU
Love this song so much. I can't believe that He and Phife are no longer with us.
BOYZ II MEN – END OF THE ROAD
This smash hit broke Elvis' record as the longest running number one on the charts.
Which scenes and songs are your favorites?
#boomerang #eddiemurphy #halleberry #gracejones #atcq #tonibraxton #boyzIImen #pmdawn #robingivens #martinlawrence #davidalangrier #eaerthakitt #marcusmiller #lareid #babyface #johnnywitherspoon #reginaldhudlin