BOOMERANG – ONE OF THE BEST ROMANTIC COMEDIES EVER MADE!
Entertainment Weekly recently dedicated an entire issue to romantic comedy films. Boomerang was one of the films featured in its list. Here's the complete interview I had with the reporter from EW:
THE UNTOLD STORY OF "BOOMERANG," EDDIE MURPHY'S UNDERRATED ROM-COM CLASSIC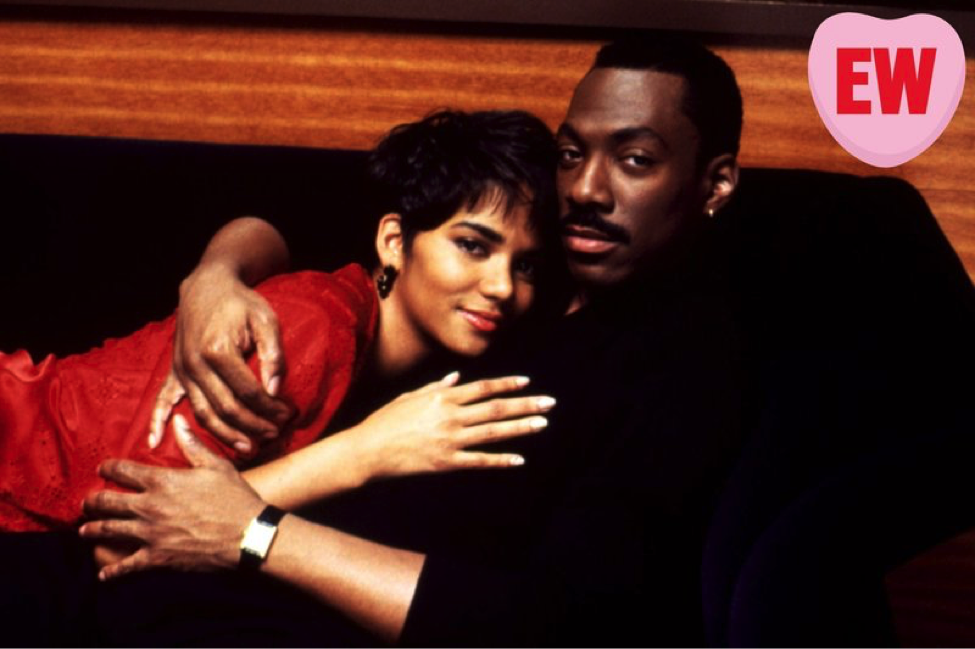 Boomerang (1992 movie)
Movie Details:
TYPE: Movie
GENRE: Romance, Comedy
KRISTEN BALDWIN
February 11, 2019 at 11:02 AM EST
Every day until Valentine's Day Entertainment Weekly is celebrating our special romantic comedy-themed Untold Stories issue. Check out all of our behind-the-scenes tidbits, reunions, and oral histories here and follow #LoveEWstyle on Twitter and Instagram.
The legacy of Eddie Murphy's 1992 hit Boomerang is almost ridiculously impressive: It featured a breakthrough performance by a young Halle Berry; it was the only top 20 movie that year with a predominantly black cast; and the triple-platinum soundtrack helped launch the career of then-unknown singer Toni Braxton.
For his first romantic comedy role ever, Murphy chose an up-and-coming director named Reginald Hudlin, whose 1990 breakout hit House Party earned over 10 times its $2.5 million budget at the box office. The comedian sent Hudlin a script about a playboy ad executive named Marcus (Murphy), who gets his heart broken by a man-eater named Jacqueline (Robin Givens) before falling for no-nonsense artist Angela (Berry). "I immediately responded to it because I love that kind of romantic comedy. I am always interested in taking black characters in genres that we are not typically seen in. In the same way that House Party was me looking at American Graffiti and Risky Business and going, 'Hey, we should make a movie like that!', Boomerang was me looking at all my favorite romantic comedies and going, 'Hey, we should have a movie like that!'"
With Murphy attached, says Hudlin, Paramount Pictures put Boomerang on the fast track. "It was like, 'Here is the release date — do whatever it takes to make sure this movie is in theaters on this date,'" he recalls. Though one particularly ignorant studio exec was skeptical — "They said, 'I don't know how you're going to make this work. I mean, Eddie Murphy in a romantic comedy? He's got that broad nose and big lips'" — Boomerang went on to earn $70 million at the U.S. box office and became a rom-com classic. For EW's special rom-com issue, Hudlin looked back on the making of Boomerang, including working with the comedy all-star cast (including David Allan Grier, John Witherspoon, and Martin Lawrence) and, of course, the mushroom suit with the matching belt.
ENTERTAINMENT WEEKLY: One of Marcus' quirks is that he can't date a woman if she has unattractive feet. In the beginning of the movie he hooks up with a beautiful woman named Christine, played by Lela Rochon, and Marcus is horrified to see that her feet are… unfortunate. So I have a very important question: Were those really Lela Rochon's feet?
REGINALD HUDLIN: No. Lela Rochon has beautiful feet. We had our crack makeup department apply corns and all kind of terrible stuff on her feet. We did not have a foot model — we just jacked her foot up for the shot.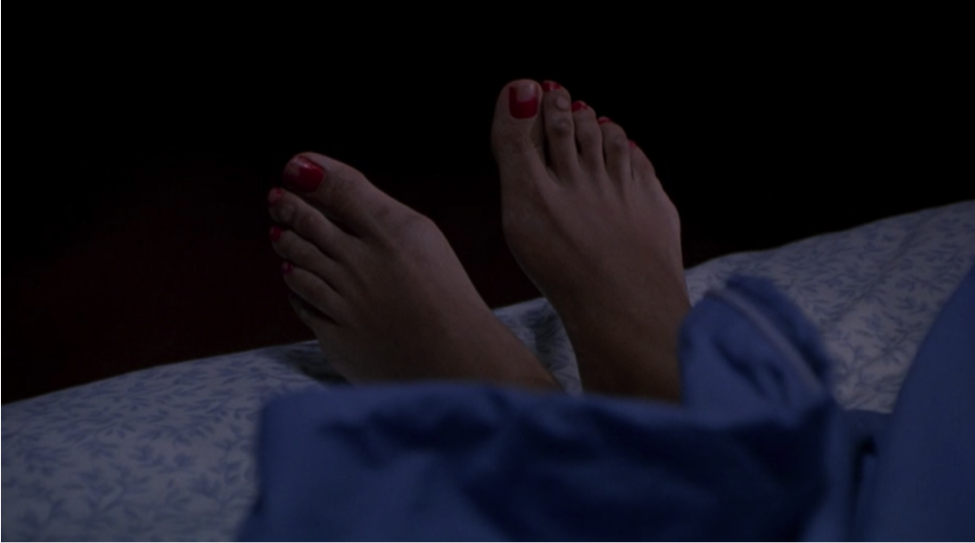 We must talk about Grace Jones, who is brilliant in the film. Was the part of Strangé written with her in mind?
That was totally written for Grace Jones. We had to get Grace Jones, there was no Plan B. On set was she was fun and she took it all very seriously, right? In the scene in the boardroom and they show her the model of what the bottle of perfume is going to look like – we were just doing a half-speed rehearsal. I was like, "Look, you pick up the bottle, you hate it, you toss it down, and you go off on everybody." Grace is not big on half-speed, so she took the bottle and she slammed it and it ricocheted across the room. I was like, "Grace, we only have two of those!"
In the boardroom, she would flip her hair and the hair would land in Eddie's face, and then Eddie would pick the hair out of his teeth. I remember Halle being completely unable to hold it together. I would look over and Halle had tears coming out of her eyes because she wanted to laugh so hard — Halle was just like, "Please, please stop!"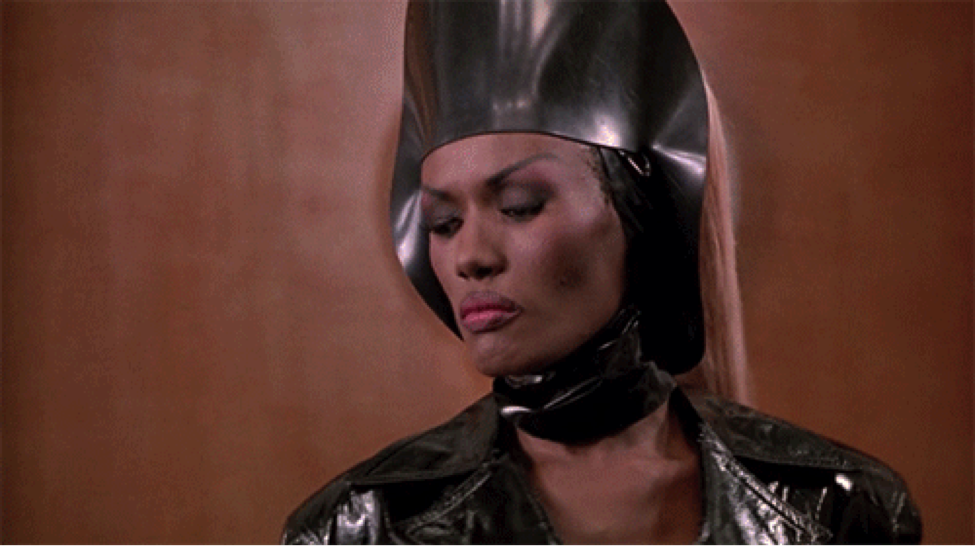 Strangé's entrance, when she bursts out of the crate on a chariot pulled by shirtless man-slaves — what was that like to film?
Well originally, we had talked about her coming in with panthers on leashes. And they were like, "Well Reggie, you're in a room with a couple of hundred extras, and if any woman in that room is on her period, those panthers will rip themselves loose and tear them to shreds." I said, "So not panthers… We'll go with people." I just thought ok, her with these beefcake enslaved men felt right. That seemed to be the statement we needed to make.
Probably my ultimate Grace Jones moment was when Grace and Eartha Kitt [who played cosmetics company matriarch Lady Eloise] met on set. Eartha Kit goes to Grace [in Eartha Kit growl], "You're doing me, but you're doing it wrong!" And she started correcting her purr. "It's like this, Arrrrr, arrrr, arrrr!" It's like, Oh my God you're right — they are the same persona, but different eras.
One of the funniest moments in the movie is when John Witherspoon's character arrives to Thanksgiving dinner wearing a coordinated mushroom-print ensemble, and Marcus is fascinated by it.
Everything about that is a great memory. First of all, my costume designer Francine Tanchuck, who is really a brilliant costume designer, she would always show me [several] options for every character. So with that one she had this blue leisure suit for Johnny Witherspoon, and the mushroom suit, with the mushroom lining for the inside of the jacket and the [matching] belt. I said, "This is a false choice… There's only one way to go — we have to rock the mushroom outfit." She laughed like, "Yes, of course." So that was not scripted, that was just wardrobe delivering one of the greatest of all movie outfits.
So if they hadn't given you the mushroom suit option we wouldn't have had that amazing scene?
You would not have seen that scene. We're there, Eddie sees the suit, and we say, "Action!" And we do like three takes. And then we turn around David Allen Grier responding to their conversation, just so we can have cutaways. It was magnificent. The two days of shooting the Thanksgiving sequence were probably the funniest two days of my life. By the time I finished shooting on Friday and I went home, I had a headache — and I realized I had a headache because I was laughing so hard, I had oxygen deprivation [laughs].
Eddie and John just came up with that interaction on the spot?
Yes. It's like Miles Davis and John Coltrane, that's what you saw… You have the funniest people in the world. If there was a day where it was Eddie and David and Martin? David and Martin would stand together, and they would just be doing something funny, so you would notice the crew gathering around them because they just wanted to eavesdrop on whatever comedic brilliance they were doing. And then when Johnny Witherspoon and Bebe Drake joined the group, it was like now this is literally too much funny. This is a completely unbearable amount of funny.
I remember when we were shooting [the Thanksgiving scene], somehow we started joking about the idea of David Allen Grier's parents having sex in the bathroom in the middle of dinner. We just started talking about that idea on Friday, and I thought about it all weekend. I would just lay in bed laughing about the prospect of that idea. So Monday morning, I'm running on set trying to find Eddie to tell him, we have to shoot that scene, and when I find Eddie, he's running to me to say, "We have to shoot that scene!" I'm like, "Yes! Yes!" We had both been obsessing over it all weekend.
Later in that scene, Marcus and Angela watch an episode of Star Trek, and Marcus calls Captain Kirk "the coolest white man on the planet." Was it always in the script that he was a Star Trek fan?
I'm a Star Trek fan, and it happened to be owned by Paramount, so we knew we could get the clip. Eddie just free-styled on it beautifully… Spock Jenkins! [laughs] It's so good.
In 1992, you didn't see a lot of movies (or TV shows for that matter) about black professionals.
For Eddie, it was a chance to be his whole self. The personas of [48 Hours'] Reggie Hammond and [Beverly Hills Cop's] Axel Foley are great characters, but people just kept wanting him to do the same thing over and over again. So [with Boomerang] he could finally be more who he was as a person… It was very deliberate, for example, that he's styled almost exclusively in Theirry Mugler suits… Usually a black professional in [movies or TV], either you are smart but corny, or cool but in the 'hood. But there's all these cool people who work in these jobs, whether they work in an ad agency or on Wall Street. I was one of those people, I knew all those people. It was like, let's just show the world we live in.
Eddie never wears a tie in the course of the film. He looks totally professional but he's totally cool — so much of that was making that statement and showing more than one kind of black guy. We felt like with David's character and with Martin's character, we really got to show, "Here is the corny guy, here is the cool guy from the 'hood, and here is the alpha. But you know what? They're all friends."
The movie doesn't pretend that racism doesn't exist — like when Marcus and his friends get tailed in a clothing store by an anxious white clerk — but it's not something the characters obsess about.
It doesn't define their lives. There is a whole sub-genre of cinema which is all about black people being oppressed by white people, and there are good and bad movies in that category — and that should exist. But there's a whole other world of people who don't sit around talking about that all the time. We wanted to tell stories that hadn't been told yet. And for black audiences, they were like, "Oh my god, this is crazy — this is my actual life, and I've never seen that [on screen] before!"