BROOKLYN COLLEGE:
Feirstein Kicks Off Fall Semester With Academy and Emmy Award–Nominated Writer, Director, Producer Reggie Hudlin
August 27, 2020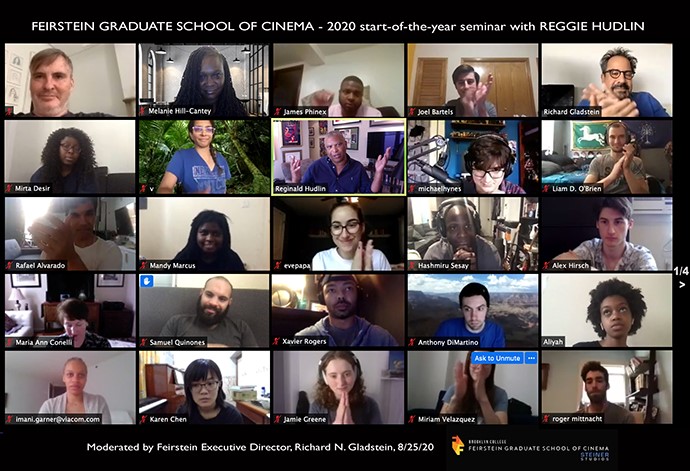 It was the ultimate "jammy jam" to start the academic year. Acclaimed writer, producer, director, and entertainment executive Reginald Hudlin—whose first movie, 1992's House Party, not only introduced the term jammy jam (when college kids gather for a party, sometimes in pajamas) into the popular lexicon but also propelled him to a distinguished and varied career in the entertainment industry—joined students from the Feirstein Graduate School of Cinema for a Zoom session in which he imparted advice, dropped some big names, and dished on the process of getting projects made.
Quentin Tarantino? Hudlin met him while standing in line at the famous West Coast restaurant Roscoe's House of Chicken and Waffles, a relationship that eventually led him to produce the hit movie Django Unchained.
Halle Berry, Chris Rock, Martin Lawrence? Executives didn't even know who they were when Hudlin first suggested them for roles in the movie Boomerang.
The pros and cons of working on big-studio films as opposed to independent productions? "There's no such thing as independent. It's who you're dependent on," he told the students.
The hour-long seminar was moderated by new Feirstein Executive Director Richard Gladstein.
"A big part of my role is bringing the industry to the students and the students to the industry," said Gladstein, a two-time Academy Award nominee and Bronx native who started at Feirstein in July. "Reggie Hudlin's experience in such a wide variety of roles made him a great choice to speak to the students. They were able to ask a host of questions on many different topics. He has so much to say on every subject. And he is a master storyteller."
Hudlin produced 2016's Academy Awards; served as president of Black Entertainment Television (BET); wrote much of the Marvel Comic series Black Panther from 2005 to 2008; produced the first black animated film, Bébé's Kids; directed and produced the movie Marshall; and directed and executive produced the Netflix show Black Godfather. He is also slated to produce the next Emmy Awards ceremony, hosted by Jimmy Kimmel, an effort from which he took time out to speak to the students.
He was congenial and no-nonsense with the aspiring filmmakers, at once encouraging them while also not mincing words about the road to success.
"You should only do this thing if you can't not do it," he said. "If you want security, you should sell insurance."
As for their time at Feirstein, Hudlin advised them to soak it all in, and to make sure they have fun in the process.
"The most important thing you are going to learn here is how to tell a story, and to tell it coherently," he said, before assuring them that their voices and experiences matter. "Just tell your truth, whatever it is."
Reggie Hudlin gives Feirstein Graduate School of Cinema students advice on how to find their voice as filmmakers.