Chadwick Boseman, Reginald Hudlin Talk 'Marshall' And Biopic's Powerful Timeliness — The Contenders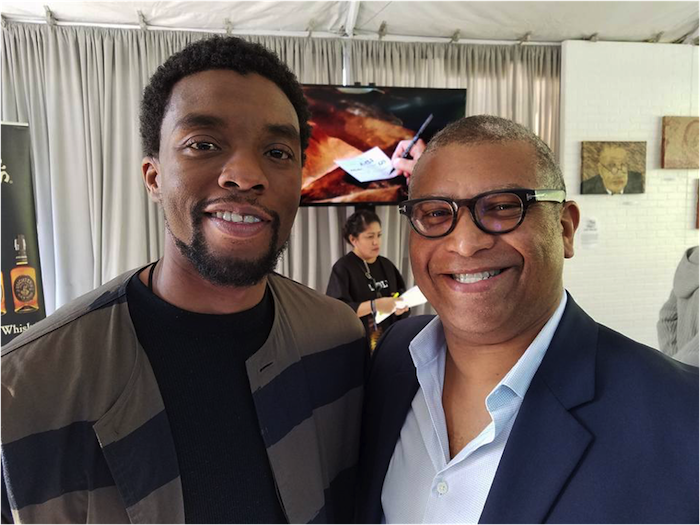 Marshall star Chadwick Boseman and director Reginald Hudlin were joined on The Contenders stage by producer Paula Wagner and songwriter Diane Warren to discuss the biopic about the civil rights revolutionary Thurgood Marshall.
"I didn't feel like I needed to know who Marshall was to enjoy the film we created," said Boseman. "For me, I saw that I had a freedom to explore him in this time period and the audacity he had. He walked into these spaces with confidence and swagger."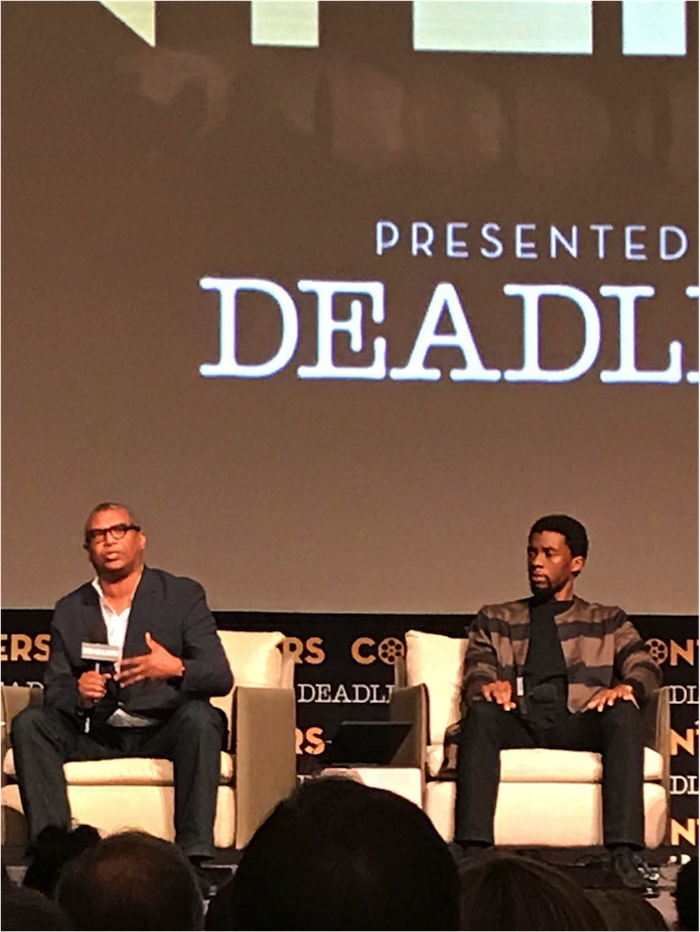 For Hudlin, the film also is about the importance of stitching a tapestry of black America during that era. "You see characters risking their lives and their backs against the wall and how we can stand up for injustice for whenever we see it."
Wagner read the script and couldn't put it down. She points out that the film takes place before World War II broke out, when it was assumed that the Northeast was free of racism and anti-Semitism. "It was a gateway for issues that are relevant to now," she says.
The film's relevancy spills over into the now in more way than one as Hudlin points out that Trayvon Martin's parents make a cameo at the end of the film. He says its a very powerful scene that shows the "miscarriage of justice" and puts the struggles of the 1940s and today side by side.
Warren, who wrote the film's centerpiece song "Stand Up for Something," sung by Andra Day and Common, said it weaves in with the film's narrative and speaks to the timeliness of standing up during these times of social unrest when "something is taken away from us."
Before he became the country's first African-American Supreme Court Justice in 1967, Marshall was a lawyer famous for winning the landmark Brown v Board of Education case that outlawed segregated schools. Marshall goes back even further, to when he was a rabble-rousing young attorney for the NAACP, and follows the story of his greatest challenge in those early days: the case of black chauffeur Joseph Spell (Sterling K. Brown), accused of sexual assault and attempted murder by his white employer, Eleanor Strubing (Kate Hudson). Marshall fought the case alongside Sam Friedman (Josh Gad), a young attorney with no experience in criminal law.
Hudlin directed a script by Jacob Koskoff and Michael Koskoff. Wagner, Jonathan Sanger and Hudlin produced the pic, with Peter Luo and Belton Lee as exec producers. Open Road Films released the film on October 13, just after the 5oth anniversary of Marshall being sworn into SCOTUS.