Comicserve loves our comic!
THE BLACK RACER AND SHILO NORMAN SPECIAL #1 BY REGINALD HUDLIN, BILL SIENKIEWICZ, DENYS COWAN.
SUMMARY
A story with iconic Jack Kirby creations makes this book a perfect issue for new readers. Action packed with Kirby's diverse cast of characters that some may not know about. Exhilarating from start to finish, a perfect story for Fourth World fans.
As the 100 years of Kirby continue, DC is putting out weekly comics to highlight some of Jack Kirby's greatest creations from their universe. So this week the Fourth World sent down THE BLACK RACER AND SHILO NORMAN SPECIAL #1, written by Reginald Hudlin with artwork by Denys Cowan and Bill Sienkiewicz. Kirby was known for promoting diversity in comics and an excellent team of creators has returned to those roots. So, we ask, will Mister Miracle escape death from the Black Racer?
Fourth World Diversity in THE BLACK RACER AND SHILO NORMAN SPECIAL #1
Boom Tubes, alternate dimensions, time-travel, a race against death, and an origin story. An immensely challenging thing to pull off well in only one issue. Well, Reginald Hudlin did just that. THE BLACK RACER AND SHILO NORMAN SPECIAL #1 tops the Kirby books that are being put out right now by a long shot. It's a fast paced story as we follow Mister Miracle on a death-defying stunt that's leading him straight towards just that. Death. The Black Racer appears and Shilo Norman must outthink, out-race, and find out why the Racer has finally come for his life.
This issue takes us throughout the future where we see references to Kamandi, OMAC, and just how skilled Shilo has become as Mister Miracle. We even get a glimpse of Kirby's creation of the Source, where the Black Racer was gifted his power. The book even leaves room for something to build upon later, if they wish to.
So for those who don't recognize the name Shilo Norman, he first appeared in Kirby's MISTER MIRACLE in issue #15. A protégé of Scott Free, he trained with him and later took the mantle after Scott's death. The issue tells us the origin of the Black Racer, sticking to Kirby's outline of a Vietnam veteran chosen by the New Gods to helm the role of Death. With Shilo's Mother Box telling us his history as we travel across time, it keeps our attention across the first half of the books, so as the issue wraps up it leaves us craving for more of these characters.
All Hail The King
The King of Comics was the creator of the Black Panther, the first black comic book superhero, back in 1966. Reginald Hudlin 's run on BLACK PANTHER was where he made his name in the comic book industry. So Hudlin writing with a cast of some of Kirby's most famous diverse characters fits the book so well. This team of creators with this cast of characters makes this book special. The pencils by Denys Cowan and inks Bill Sienkiewicz complement each other especially well. Their styles blend, the dark inks bring the page to life. So their scattered line work gives depth and detail to the characters as they bounce through different timelines. Getting to see so many Fourth World and Kirby creations within one issue is mind-blowing.
The Black Racer Doesn't Mean It's Over
Overall, this issue defines perfection amongst these Kirby homages. The book is filled with an amazing cast of diverse characters, action, and history of the Fourth World. It would be great to see this team of creators take on a whole book regarding the Fourth World. Tom King is currently writing a new MISTER MIRACLE title, which is the closest we've gotten in a long time. It's a great book to learn about some astonishing Kirby creations, which is proof that, even in today's world, he was still ahead of his time.
Black Racer and Shilo Norman Special #1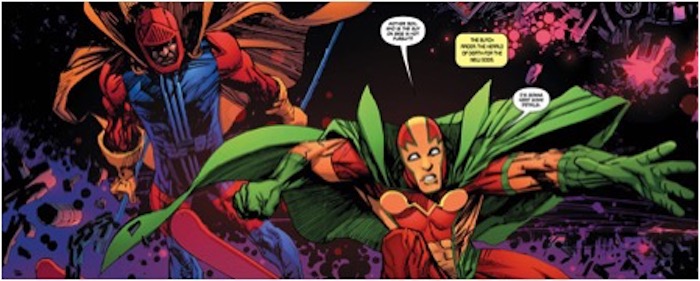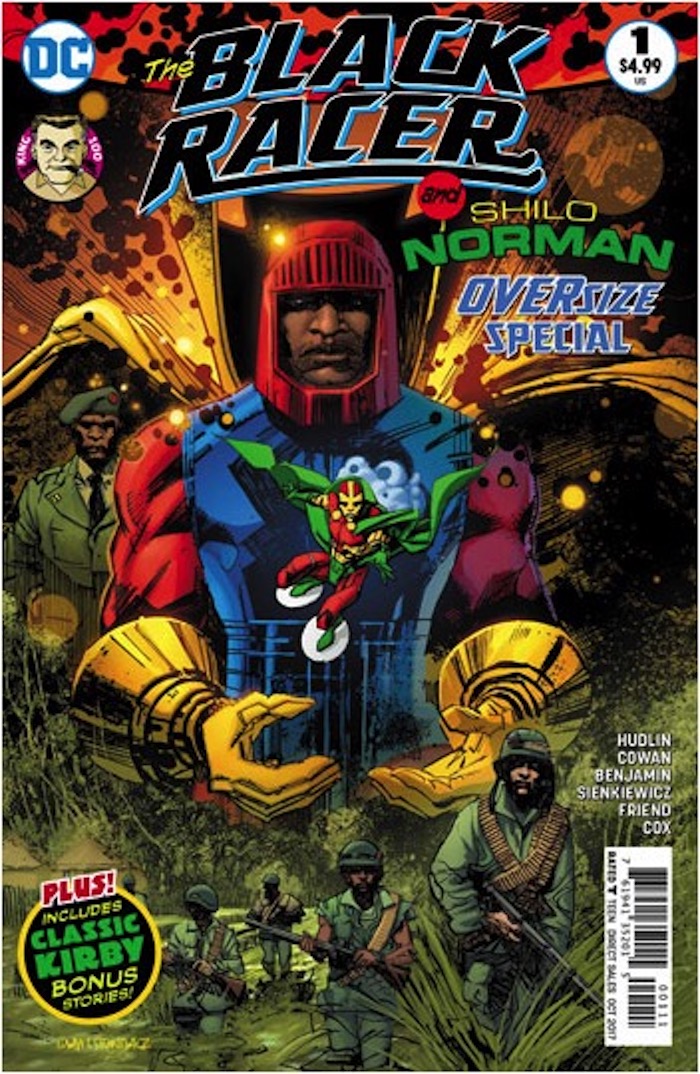 The Black Racer and Shilo Norman were minor characters in Jack Kirby's Fourth World. The Black Racer appeared in a couple of issues of New Gods, a dark mirror of Kirby's more well known creation, the Silver Surfer. The Black Racer was, effectively, the incarnation of death for the heroes and villains from New Genesis and Apokolips.
Shilo Norman was a young boy who had witnessed a murder, and was brought to Mister Miracle to help him survive gangland reprisals, sticking around for the last few issues of the run to train in being an escape artist himself.
Both characters were, obviously, black, but shared another feature that made them different from the rest of the Fourth World heroes. They were both humans from Earth. The Black Racer was a cosmic entity, to be sure, but he merged with a paralyzed man, Willie Walker, a Vietnam vet who had been shot trying to defend his neighbourhood from hoods.
It is this shared feature, the fact that they are humans operating in a milieu of New Gods, that Hudlin builds his story around. Shilo Norman spends most of the story as the new Mister Miracle, performing an escape that has been rigged to ensure his death. The Black Racer shows up to "confirm" this and take Shilo to the other side once the death occurs. But neither man is content to let this take place, and both wind up fighting against the destinies.
The story works very well, both as an introduction for readers who may not be familiar with the characters, and as a strong adventure for the two men. There are some moments of humour, but overall this is a fairly serious tale.
Though the racial element is never brought to the forefront, I have a feeling there was a deeper level to the book that was intended, which does deal with it.
The rigged escape that Mister Miracle must perform is a creation of a "casino king," Travis Donald. In case anyone didn't pick up the hint, the character is very explicitly drawn to be Donald Trump. Although this story would have been written before the events of Charlottesville, his white supremacist inclinations have been clear for quite a while.
So it is possible to view the entire tale as a metaphor for the challenge of survival faced by black men in a nation where wealthy whites exploit and toy with them for their own amusement and profit, and the different challenges the two characters face to defy the manipulations, authority, and destiny which all seem to condemn Shilo to a certain death.
Whether or not one chooses to view it that way, the story remains highly entertaining, with some brief but entertaining cameos by other Kirby creations, the world of Kamandi, and OMAC and Brother Eye.
There are also three Kirby reprints, all installments of the Young Gods of Supertown feature that ran in New Gods. Two of the stories feature Fastbak, and one centres on Vykin, of the Forever People.
Rating: 9.5 /10
NEWSAMARA:
Black Racer and Shilo Norman Special #1 (Published by DC Comics; Review by Matthew Sibley; 'Rama Rating: 8 out of 10): Earlier this month, DC Comics released the first issue of Mister Miracle, but this week –– the week of Jack Kirby's 100th birthday –– readers get the chance to get to know a different super-escape artist: namely, Seven Soldiers alum Shilo Norman. Strapped to a missile, Shilo's story gets increasingly complicated when the Black Racer shows up, forcing Shilo to escape death itself. As other Kirby characters get involved along the way, Reginald Hudlin's script uses them well, in what might be the best written (and most respectful) of all the Kirby specials. This one-shot also reunites Denys Cowan, Bill Sienkiewicz and Jeromy Cox following their previous collaboration on Deathstroke, working with Ryan Benjamin and Richard Friend in lending this issue a wild scale. The two teams work together on this story rather than one handling a back-up, their styles blending well and of course this issue comes with reprints of Kirby's work which helps to make this special all the more delightful.