MY NEW MOVIE MARSHALL IN THE NEWS
A Cultural Paradox: Students Run From History While Movies Dig Deeper Into The Past
by Michael Cieply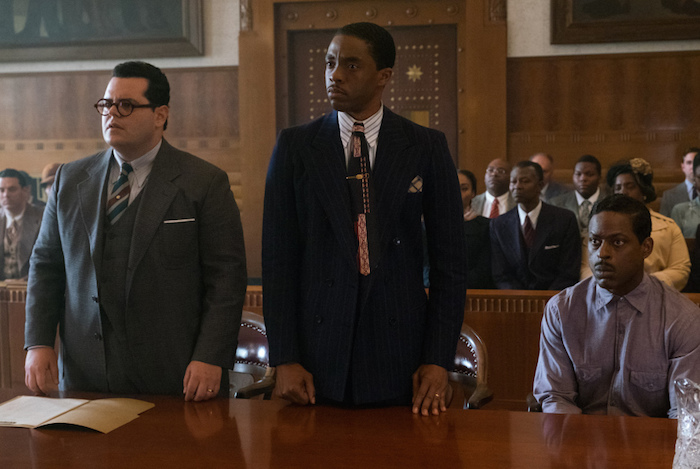 Here's a cultural paradox: Even as American universities and their students are fleeing history at a frightful rate, movies, at least of the sort that contend for awards, are digging ever deeper into nooks and crannies of the past.
On the academic front, the Harvard scholar Niall Ferguson has described some trends that should depress anyone who would rather study history than repeat it. Accepting an award from the American Council of Trustees and Alumni late last year, Ferguson, in remarks entitled The Decline and Fall of History, noted that the study of history is collapsing at U. S. colleges "faster than Gibbon's Roman Empire." The most recent available data shows the number of history undergraduate degrees to be dropping at roughly 10 percent a year, with even steeper declines in the most prestigious colleges. Overall, the percentage of degrees awarded in history and the social sciences dropped from 18 percent of the total in 1971 to 9 percent in 2014. In addition, said Ferguson, the count of history majors kept by the American Historical Association shows that the number of degrees in that discipline will be even lower by 2018.
But the movies are another story. Anyone who follows film has been struck by the long list of titles that have been mining the past, often in search of overlooked stories that seem to delight or instruct in ways that, presumably, academic history does not. Last year brought Hidden Figures, about forgotten African-American women who contributed to the space race, and Hacksaw Ridge, about a heroic conscientious objector during World War II. The list of prominent historical dramas on Oscar rolls in the past five years is too long, and familiar, to repeat. 12 Years A Slave, The Revenant, Argo, Bridge of Spies, The Imitation Game and a dozen others have either won the film world's top prizes or came close.
By early fall, as Prof. Ferguson and his colleagues' peer anxiously at the empty seats in their lecture halls, film festivals and guild screening rooms will again ring with debate about the reliability and import of history-based dramas like Kathryn Bigelow's Detroit, about that city's 1967 riot; or Stephen Frears' Victoria and Abdul, about Queen Victoria and her relationship with an Indian clerk; or Reginald Hudlin's Marshall, about the young Thurgood Marshall's role in a racially charged rape case.
In their weaker moments, some of those films will commit the cardinal sin of anachronism. As described by Ferguson, that is "an impulse to judge the past by the moral standards of the present—and indeed to efface its traces, in a kind of modern-day iconoclasm, when those are deemed offensive."
But the better movies will attempt what the study of history has always done—that is, to challenge easy assumptions by bowing to the often messy facts. Thus, for instance, Marshall, set for release by Open Road Films on Oct. 13, will probe the uncomfortable realities in a 1940 court case that found a black butler, Joseph Spell, played here by Sterling K. Brown, testifying that his white employer, Eleanor Strubing, portrayed by Kate Hudson OOPS SPOILER. NOT SHARING.
History, and the movies, will tell.