Summit at UCLA celebrates Mira Sorvino, leading lawyers and filmmakers in human rights
Conference focused on artists and lawyers who use entertainment to promote stories of social injustice
Academy Award-winning actress Mira Sorvino and a host of preeminent artists and lawyers who use movies and television to spread stories of social injustice shared the secrets of their craft at a March 16 summit at the Hammer Museum at UCLA.
Featuring panels on the law, economics and art behind works that drive social change, "Lights. Camera. Reaction.: The Art of Impact in Entertainment" was presented by the Promise Institute for Human Rights at UCLA School of Law; the Skoll Center for Social Impact Entertainment at the UCLA School of Theater, Film and Television; and the arts nonprofit Creative Armenia.
Sorvino, a United Nations goodwill ambassador and longtime campaigner against human trafficking, received the inaugural Promise Institute Award for Contribution to Human Rights Through the Arts.
In accepting the award, the "Mighty Aphrodite" star detailed the abuses faced by women she has met in her travels for the U.N. and while working on films about human trafficking. She encouraged members of the audience to take action. "The filmmakers in this room have all made incredible contributions to changing the world [by] enlightening their audiences through an artistic depiction of a terrible issue," she said.
Sorvino also addressed her role as a leading voice in the Time's Up movement against sexual harassment in Hollywood and other workplaces. She marveled at the collective power of women speaking out. "It's not stopping now," she said. "The cat is out of the bag, the Pandora's Box has been opened, we have found a voice."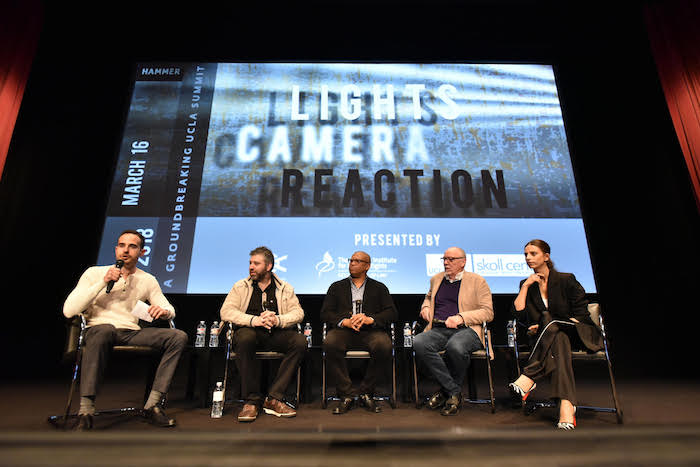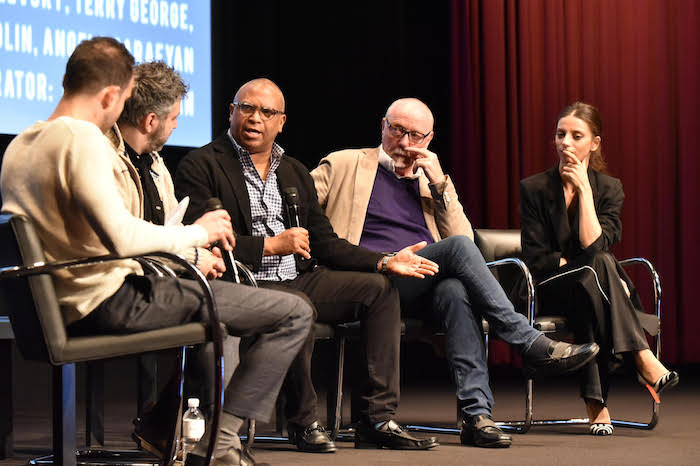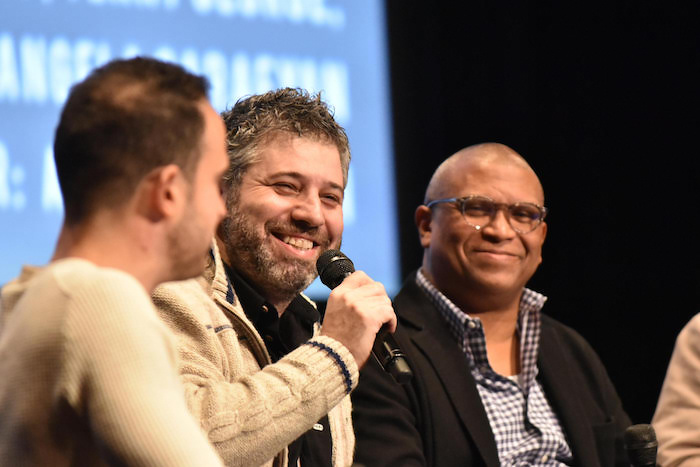 Panelists who participated in the summit included filmmakers Edward Zwick ("Glory" and "Blood Diamond"), Amy Ziering ("The Invisible War" and "The Hunting Ground"), Dr. Eric Esrailian of the David Geffen School of Medicine at UCLA ("The Promise"), Mike Medavoy ("The Promise"), Catherine Hardwicke ("Thirteen"), Evgeny Afineevsky ("Winter on Fire"), Terry George ("The Promise" and "Hotel Rwanda") and Reginald Hudlin ("Django Unchained" and "Marshall"); actress Angela Sarafyan ("The Promise" and "1915"); activist and public relations specialist Bonnie Abaunza; entertainment attorneys Kelli Sager of Davis Wright Tremaine and Gabriel Brakin of Participant Media; and the leaders of UCLA Law's Documentary Film Legal Clinic, "Frontline" special counsel Dale Cohen and entertainment law specialist Daniel Mayeda.
Cohen, whose clinic offers free legal services to independent filmmakers, moderated a panel on navigating the legal minefields when making movies that confront human rights violations. The clinic's services are increasingly vital, panelists made clear, in an era when major studios don't produce impact movies like 2006's "Blood Diamond," which tackled the gem trade in war-torn Africa.
"The day in which serious fiction films [with large budgets] are made are long gone," said "Blood Diamond" director Zwick. He elaborated that corporate entanglements and risk aversion have made it unlikely that major studios would back a film like 'Blood Diamond' today. "I think they've abdicated that to … the world of independent film and documentary."
Cohen's panel further explored the extensive challenges of telling such stories. Ziering spoke of protests and pressure that she received while making the documentary "The Hunting Ground," about sexual assault on college campuses. Zwick, meanwhile, spoke about the massive PR campaign that diamond giant De Beers waged against "Blood Diamond."
Sager and documentary clinic associate director Mayeda explained how lawyers must walk a fine line in shepherding film projects through possible litigation hazards. "The goal," Sager said, "is to help the creative process without stepping on it, so that we're trying to make it legally safe enough for you to do what you do without sucking all of the blood or the interest out of the project."
Other panels featured several members of the creative team behind the 2017 movie "The Promise," which was the first major motion picture to tell the story of the Armenian Genocide of the early 20th century. That project served the cause of social justice in two ways: It highlighted a historic atrocity that is poorly understood, and its proceeds went to support a number of human rights organizations, including the Promise Institute at UCLA Law.
Alongside "Promise" producers Esrailian and Medavoy, Skoll Center executive director Peter Bisanz moderated a discussion on the business of making movies with a message. Abaunza and Brakin, who graduated from UCLA Law in 2005, detailed how social-impact tools like music videos, retail products and strategic use of digital platforms can be key to activating audiences.
"It has become more relevant than ever to be producing this type of content; there's more audience demand for it than we've ever seen," said Brakin, the general counsel and executive vice president of business affairs at Participant Media. "We've reached a bit of a tipping point in the corporate world, [with] companies realizing that they need to be thinking about: How does their business contribute to the public good?"
A panel on the creative process behind the making of human rights films, moderated by Creative Armenia vice president of productions and programs Alec Mouhibian, was similarly revealing. "The Promise" director George, whose films have detailed horrors in Northern Ireland, Rwanda and the Ottoman Empire, discussed how he focuses on appealing to audiences all over the world. "We are universalizing the humanity of our characters," he said. "You have to be able to play today in Belfast, Beirut and Beijing. That's the nature of the business, and the story needs to be therefore universalized."
Hudlin agreed. His 2017 biopic "Marshall" sought to make legendary lawyer Thurgood Marshall broadly relatable by focusing on an intimate story from the future Supreme Court justice's early career. For any lawyer, activist or filmmaker intent on crafting a piece of entertainment whose overriding purpose is to land with a positive impact, Hudlin said, "The truth is a very powerful weapon."