BOXING WITHOUT BOXING: THE GREAT WHITE HYPE
It's funny because so often it feels true.
That's not the same as being true.
There are enough occasions over 90 minutes where the line is close enough.
In 1996, director Reginald Hudlin (House Party, Boomerang) tackled the sweet science in a way that few others have ever approached the sport on the silver screen. Boxing has easily lent itself to Alger-esque fairy tales (Rocky), morality plays (Requiem for a Heavyweight), tragedies (Million Dollar Baby), and yes even comedies (Diggstown).
When BoxingScene forum user B_Morph, responding to a previous installment of Boxing Without Boxing, wrote "I'd love to see a review of Great White Hype. I think it's a pretty accurate portrayal of a behind the scenes look at boxing, even if exaggerated for comedic purposes," it was an easy request to grant. Not having watched for more than a few minutes here or there in well more than a decade, fresh eyes noticed something striking about Hudlin's approach.
The Great White Hype is a comedy about what boxing looks like to many of the people who are just passing by. Yes, it rings true enough for those who follow the sport avidly in several ways, but ultimately Hudlin's film is as much about the spectacle of boxing as it is about the sport itself. Boxing's spectacle side isn't really about the folks who get up early to watch an international bantamweight war or spend hours debating the fine points of what might have happened in fights between men of disparate eras.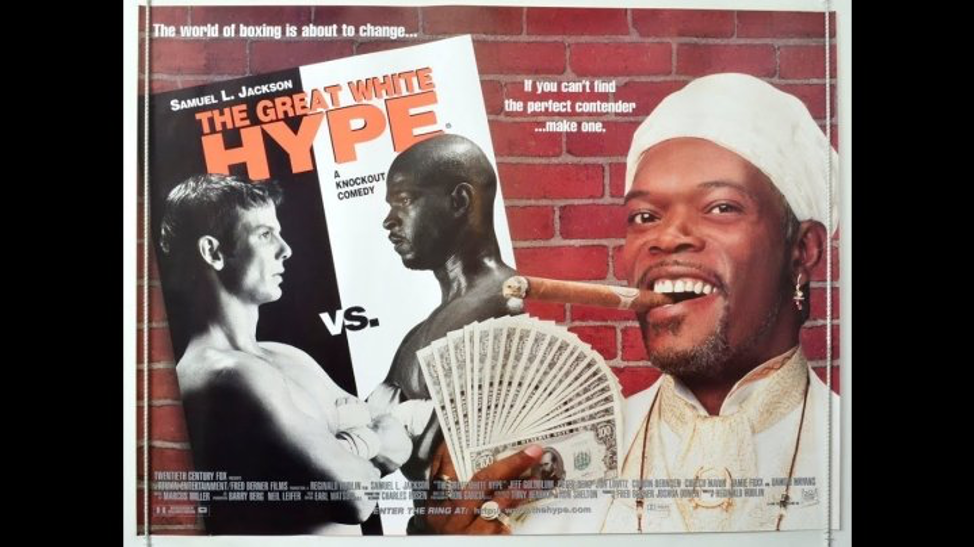 The genuine spectacle moments in boxing are those that draw in an audience that wasn't there a month ago and won't be back until the biggest circuses set up the tent again.
Sometimes those moments produce boxing's finest hours.
The Great White Hype was released with a fight in mind that wasn't one of them.
In 1995, Mike Tyson returned to the ring after serving a prison sentence for rape to face unheralded Peter McNeeley. Despite a promise to wrap Tyson in a "cocoon of horror," McNeeley lasted just 89 seconds. Over 1.5 million homes purchased the fight to the tune of more than $60 million on pay-per-view alone.
Hudlin takes an event that played as a little absurd and combines his eye with a script co-authored by one of the great sports screenwriters of them all to turn the volume to eleven. Ron Shelton, most famous for the great Bull Durham and White Men Can't Jump, doesn't ever fully wrap his arms around boxing the way he tackled baseball and basketball. He gets close in many respects.
To briefly recap the plot, heavyweight champion James "The Grim Reaper" Roper (Damon Wayans) has run out of profitable opponents and his promoter Fred Sultan (Samuel L. Jackson) isn't keen on matching him with his most dangerous opponent. Instead, he seeks out the lone man to defeat Roper as an amatuer, Terry Conklin (Peter Berg). Conklin gave up boxing and is pursuing a music career. The idea is simple. Conklin is white and white can mean green.
For fight fans, discussions in the film of Larry Holmes-Gerry Cooney, and clips of real fights like Ray Mercer-Tommy Morrison, attempt to underscore the thesis. Is it a place where the movie can feel dated at times? The 21st century heavyweight division has been different than much of the previous century. This is a movie grounded American heavyweight landscape of the 1900s and not the more international arena that has arrived. How true it's examination of racial dynamics in the sport is now will be up to modern viewers to decide.
Regardless, the reason to nickname Conklin "Irish" remains one of the best laughs in the movie.
The idea of finding an unqualified opponent and beefing up their credentials to make a ton of money is unlikely ever to go out of style. A heavyweight getting a shot at the title in their first pro fight should feel ridiculous…accept it's happened. In 1957, Floyd Patterson defended against Olympic gold medalist Pete Rademacher in Rademacher's debut.
We haven't seen it happen again since to that extent. Again though, it was a real thing.
Also possibly dated, in a you'd-have-had-to-be-alive-then to really get it, is the performance of Jackson. Sultan is obviously a play on Don King, down to some of the details of his background, and one has to assume some reading of Newfield in Shelton's take. While modern promoters like Eddie Hearn, or the ageless Bob Arum, still capture headlines with occasionally wild comments, King was in a class by himself as a personality and presence.
For someone who came to follow the sport in the post-King years, the film could play differently than for fans who were engrossed at the time the movie was released.
What is presented on-screen isn't so much King as the perception of King in his time by the casual observer, cranked up a notch. Along with Jackson's performance, Cheech Marin's stand as a sanctioning body official is much the same. In 1996, and still today, some fighters achieve rankings with sanctioning bodies that don't seem to measure up to the reality of wins and losses. Hudlin's movie doesn't pull punches in mocking the path to contention.
Throw in some over the top press conferences, the idea that access is an easy way to co-opt dissident voices via the character of Mitchell Kane (Jeff Goldblum), and a couple leprechauns on a ring walk and the fun house mirror held up might make some boxing lovers cringe at a story landing too near the belt.
Is it a good movie? Audiences didn't flock to it upon release. It's certainly an uneven enterprise. Jackson, Wayans as a champion who trains on ice cream and cigarettes he's so unconcerned about his foe, Marin, and Berg all turn in fun performances but the parts are stronger than the whole.
Still, as part of the pantheon of boxing film, The Great White Hype is worth at least a viewing. There are too many moments where the visceral reaction to what's being portrayed is "that's ridiculous," followed quickly by "well, except there was that one time…" for it not to have value.