Buffalo's architecture and state's tax credits help land major motion picture
'Marshall' filmmakers heap praise on WNY
By Mark Sommer | News Staff Reporter, on May 22, 2016 – 8:36 PM, updated May 22, 2016 at 11:53 PM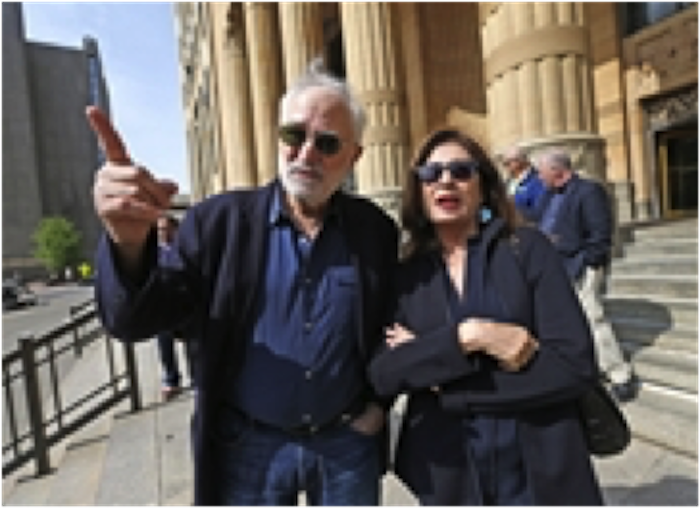 Actors Kate Hudson, James Cromwell and Chadwick Boseman bring star power to the movie "Marshall" that begins filming Monday in Buffalo.
But Buffalo's architecture plays a major supporting role, too.
"We scouted a lot of different cities, but Buffalo has preserved so much fantastic architecture from the turn of the last century," director Reginald Hudlin said Sunday outside City Hall.
Hudlin joined the movie's producers and a group of Chinese investors to receive a Buffalo welcome from Mayor Byron W. Brown and other political officials.
"There is literally no way we can have this kind of production value – I mean, you just look at City Hall here, and this incredible work," Hudlin said as he pointed to carved details outside the art deco building. "And there are so many places like this. And not just the public buildings. Even when we go to private homes, there are so many people here who are really into preservation."
On Sunday, the film's producers announced Hudson, Cromwell, Sterling K. Brown and Dan Stevens have joined a cast that stars Chadwick Boseman as Thurgood Marshall and co-stars Josh Gad as lawyer Samuel Friedman.
The filming is expected to continue through early July in Buffalo and other areas in Erie County as well as Niagara Falls.
"We have found perfect locations for this movie, and the people here have been fantastic," producer Paula Wagner said.
Courthouse scenes will be primarily shot at the former Dillon Courthouse in Niagara Square and on the steps of City Hall. Scenes will also be filmed this week inside the Niagara Falls Public Library's LaSalle Branch, where the second floor has been painted to look like Marshall's office.
The filmmakers chose Buffalo because of the locations, local acting and crew talent, tax credits and cooperation of the Buffalo Niagara Film Commission, Hudlin said.
"We're making a large financial investment, and once you make a decision like this there's no turning back, so it's a very carefully weighed decision," Hudlin said. "We thought about it very seriously, and Buffalo was the place that checked all the boxes."
Brown, who recalled watching Hudlin's movie "House Party" in the early 1990s, was thrilled filmmakers picked Buffalo for the major motion picture about a civil rights champion.
"I want to thank the 'Marshall' cast and crew for choosing our community," Brown said. "This could have been done in a lot of different places in the country. The fact that they chose Buffalo demonstrates Buffalo's growing reputation as a great place to film a movie and to film for TV.
"Thurgood Marshall was one of the greatest legal minds in our nation's history, and to have this movie filmed here in Buffalo is a tremendous honor," Brown said.
President Lyndon Johnson in 1967 nominated Marshall to be the first African-American on the Supreme Court. The civil rights attorney had a 25-year association with the NAACP. He won 29 of his 32 cases before the Supreme Court, including the landmark Brown v. Board of Education of Topeka case, in which the justices ruled "separate but equal" public education could never be truly equal.
"For me, there is a short list of people who kind of made America fulfill its promise, and Thurgood Marshall is one of those people," Hudlin said. "It's to the point where, when my son was born, Thurgood was on the short list of names. Ultimately, I couldn't do that to him," he said, laughing.
Hudlin directed the films "Boomerang" and "Serving Sara" and co-produced "Django Unchained" and this year's Academy Awards ceremony. He said he jumped at the opportunity to direct the film.
"I loved the script because it wasn't a typical bio-pic, but a legal thriller that focuses on one case early in his career," Hudlin said. "I thought the case perfectly encapsulated so many of the complexities and challenges of his career. It also works as a great movie, where you don't know the outcome."
Hudlin said the film takes place in 1941 but has an important message for today.
"This movie is what we need as a culture right now," Hudlin said. "At a time where we as a nation need to renew our commitment to the foundations of American democracy, which is fairness and justice, and judging people by their character, this movie renews all those things in a fresh way.
"We feel this movie will bring everyone together, and inspire us to be our best selves," Hudlin said.
Wagner put together the producing team, financing and cast. The film producer, who was Tom Cruise's longtime business partner, co-produced the "Mission Impossible" film trilogy and other blockbusters.
"I think we are making a film that not only is going to be entertaining, but it's a film that has relevance to now," Wagner said.
The film takes place in Bridgeport, Conn. A Greenwich socialite in 1940 accused her African-American chauffeur of rape and kidnapping. The NAACP enlists a Jewish lawyer, Samuel Friedman, to defend the chauffeur, with Marshall hired to assist Friedman during a period of considerable anti-Semitism and racism.
"We wouldn't be here without Chadwick Boseman playing Thurgood Marshall," Wagner said. "He is a phenomenal young actor, and when we met him, Reggie knew immediately, I knew immediately, we knew immediately that the soul, the essence of Thurgood is right there in Chadwick Boseman as an actor."
Boseman's film credits include portraying Jackie Robinson in "42' and James Brown in "Get On Up."
Brown said the "Marshal" production is expected to spend $4.5 million, hire more than 100 crew and extras and book 1,100 hotel room nights.
"Not only is it great to showcase our community in this way, and have this great film filmed here in Buffalo, but it also puts people in our community to work," the mayor said.
Brown credited the Buffalo Niagara Film Commission, noting movie and television production generated $16 million in 2015 and is on pace to top $20 million this year.
Sam Hoyt, regional president of Empire State Development, praised the state's film tax credit program for upstate New York.
"This has a snowball effect," Hoyt said. "They're going to have a great experience here, they're going back to Hollywood and are going to say Buffalo is a great place to film movies, to do television production and we begin to get the reputation that we're a great place to do business. We are going to see much, much more film production to come."
Hudlin said there are several scenes that call for large casts of people, black and white.
"We will be challenging Buffalonians to the max to have them appear in the film," Hudlin said. "We are going to be making stars out of some of the folks here in town, not just in background but with speaking lines as well."
Hudlin said he's become smitten by the region in his short time here.
"I can't say how much we are enjoying being here in Buffalo," Hudlin said. "It's a beautiful city, it's perfect for our production. But the most striking thing is the generosity of the citizens here. You guys have a wonderful secret here in Buffalo that we want to tell everybody about."