Chance the Rapper bought all of Friday's Marshall showings at two Chicago theaters
Chance the Do-Gooder strikes again
By JOSH GLICKSMAN@JOSHGLICKSMAN
Chance the Rapper continues to show love for his city.
The 24-year-old Chicago native bought all of the Marshall tickets for the entire day at two different theaters on the day of the film's release. He made the announcement via a press release that he wrote himself and posted to Twitter. He also teased that something special might be going down at the 3 p.m. showing: "Come to the one at 3 I'm good at surprises and stuff," he said.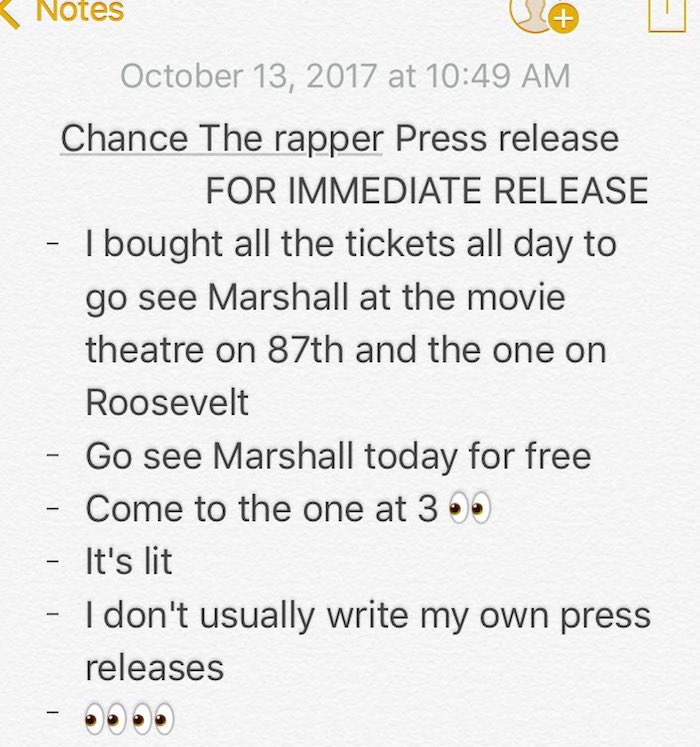 This isn't the first time that Chance the Rapper purchased a whole lot of tickets for people to see a movie for free, either. He bought a whole day's worth of tickets to Get Out showings back in February at one of the same theaters that he promoted this time around. It might be wise to start camping out at the Chatham 14 Theaters on 87th Street for all future movie releases just in case.
Marshall is now in theaters and stars Chadwick Boseman, Josh Gad, Kate Hudson, and Sterling K. Brown. You can watch the trailer for the film above.
Here's a picture from the event below.