Eddie Murphy Is on a Mission forChristmas Cheer in Candy CaneLane First Look (Exclusive)
"I can say confidently you've never seen a holiday movie like this," director Reginald Hudlin tells PEOPLE.
By Jen Juneau | PEOPLE Magazine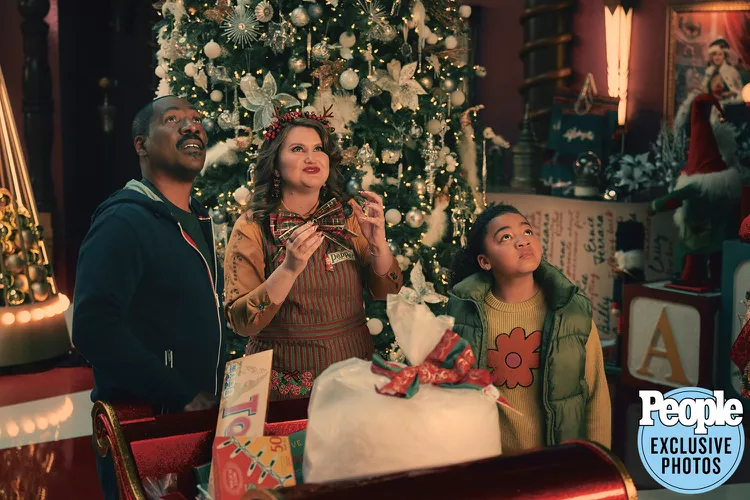 Eddie Murphy, Jillian Bell and Madison Thomas in Candy Cane Lane (2023). PHOTO: CLAUDETTE BARIUS
Eddie Murphy is spreading Christmas cheer.
The actor, 62, stars in his first-ever holiday movie, the upcoming adventure comedy Candy Cane Lane, which PEOPLE has an exclusive first look at.
Murphy plays Chris Carver, a father of three who "loves Christmas so much he's even given all his kids Christmas-themed names (Holly, Joy and Nick)," according to director Reginald Hudlin.
"When Chris is unexpectedly laid off, he throws himself into winning the Candy Cane Lane house-decorating contest in his neighborhood, which has a huge cash prize," Hudlin says.
He continues, "But when he finds the coolest-looking Christmas decorations ever that will pretty much guarantee him winning the big prize, it turns out they are cursed by a wayward elf named Pepper [Jillian Bell]."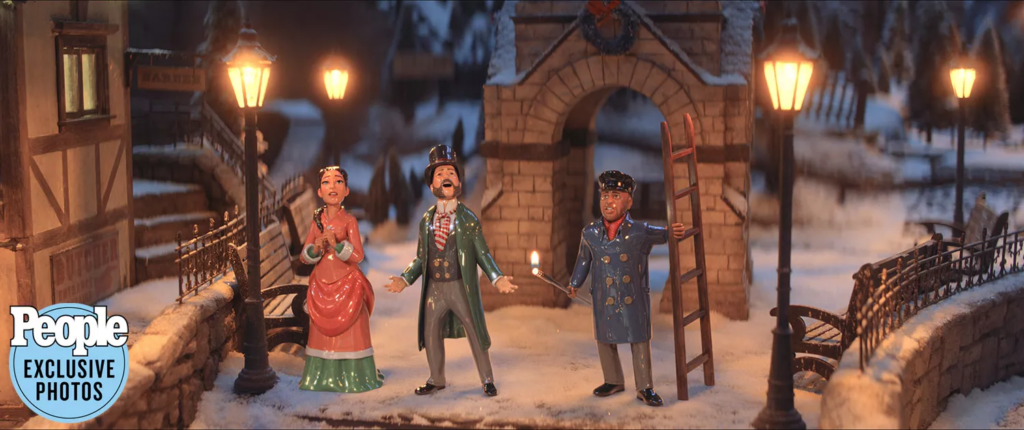 Candy Cane Lane (2023). PHOTO: COURTESY OF PRIME VIDEO
"Now the '12 Days of Christmas' characters are coming to life and causing chaos for Chris and his family," the filmmaker adds. "Now instead of winning it all, he could lose it all!"
Candy Cane Lane also stars Tracee Ellis Ross, Thaddeus J. Mixson, Ken Marino, Nick Offerman and Chris Redd.
Director Hudlin (House Party, Boomerang) tells PEOPLE that Ross plays Chris' wife Carol: "She's a great wife, a great mother of three kids and a hardworking executive up for a promotion at the distribution center where she works. When Christmas and her family are threatened by supernatural forces, her Mama Bear instincts kick in to the fullest."
As for Bell's character, Pepper, she's an elf who "takes the 'coal in stocking' punishment to absurd lengths," says Hudlin. "She's out to penalize anyone who she thinks deserves it, and that includes pretty much everyone."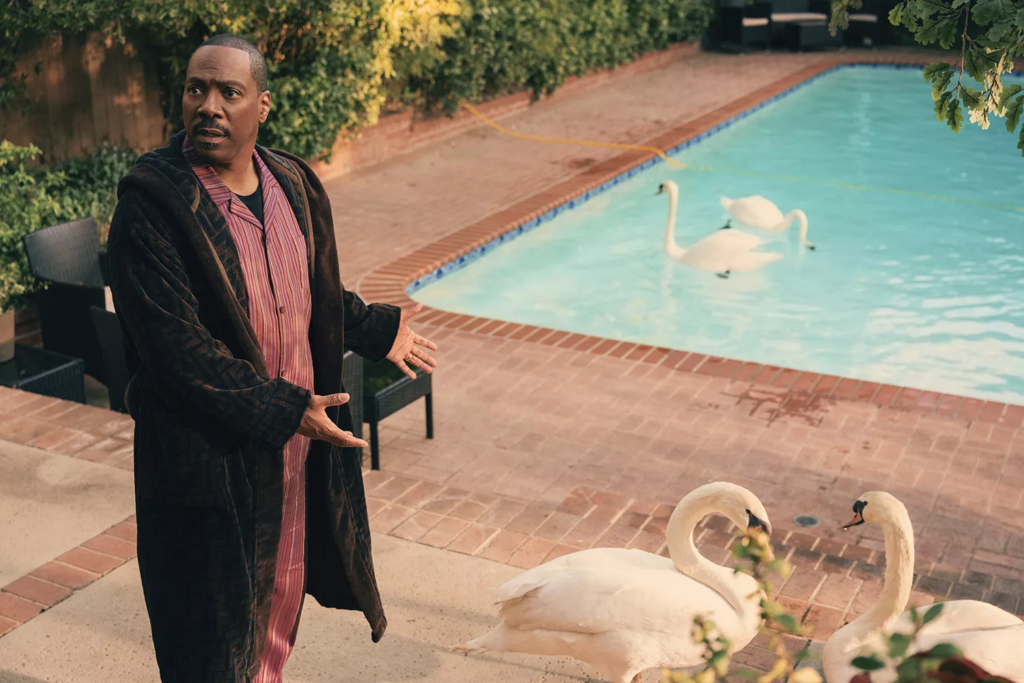 Eddie Murphy in Candy Cane Lane (2023). PHOTO: CLAUDETTE BARIUS
Offerman, Thede and Redd play characters who "are victims of Pepper's vindictiveness," explains Hudlin. "They have been transformed into living Christmas ornaments made of glass and look like Victorian characters."
"Nick Offerman plays a proper English gentleman from another era, while Robin Thede plays a Kardashian-ish power shopper and Chris Redd is a working-class everyman," the filmmaker continues. "They don't get along that well, but they are allied in their urgent need to escape from Pepper's clutches."
Hudlin tells PEOPLE, "I can say confidently you've never seen a holiday movie like this!"
"We have jump scares, car chases and kung-fu fighting, plus all the holiday feels," he reveals.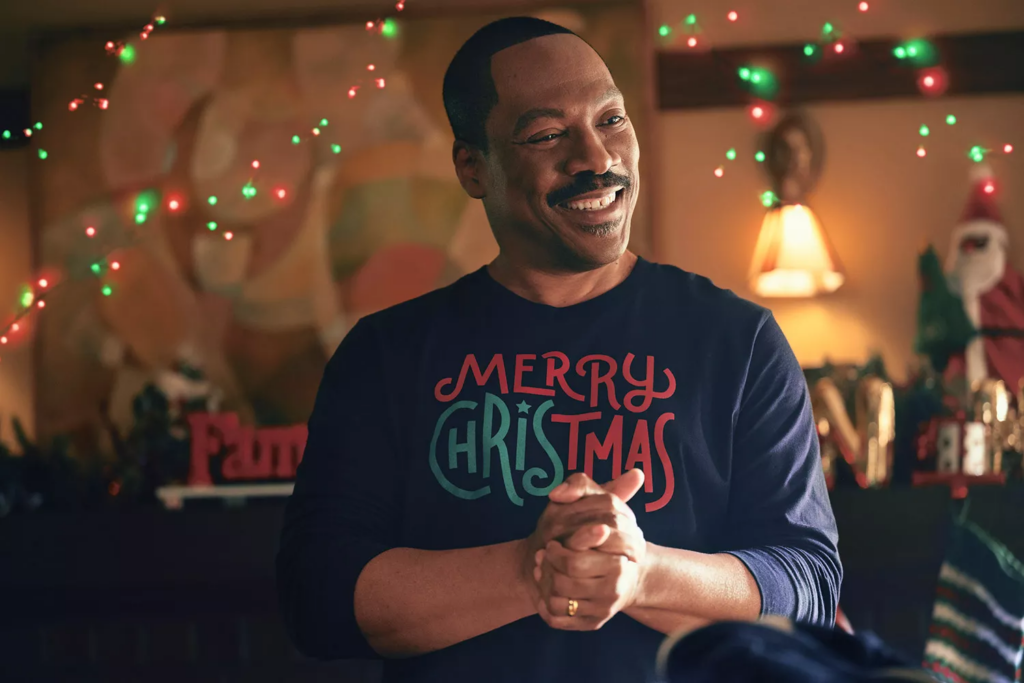 Eddie Murphy in Candy Cane Lane (2023). PHOTO: CLAUDETTE BARIUS
Candy Cane Lane reunites Murphy with director Hudlin and producer Brian Grazer, filmmakers he worked with on his 1992 movie Boomerang. Murphy himself is also listed as a producer on the project, in addition to Karen Lunder and Charisse Hewitt-Webster.
Written by Kelly Younger, the movie is executive produced by Doug Merrifield, with a supporting cast that also includes Genneya Walton, Madison Thomas, Anjelah Johnson-Reyes, Lombardo Boyar, D.C. Young Fly, Danielle Pinnock, Timothy Simons, Riki Lindhome and Stephen Tobolowsky.
"I can't wait for the world to see Candy Cane Lane," Hudlin previously said in a statement. "I've wanted to make a Christmas movie my whole life, but I wanted to do something fresh and surprising."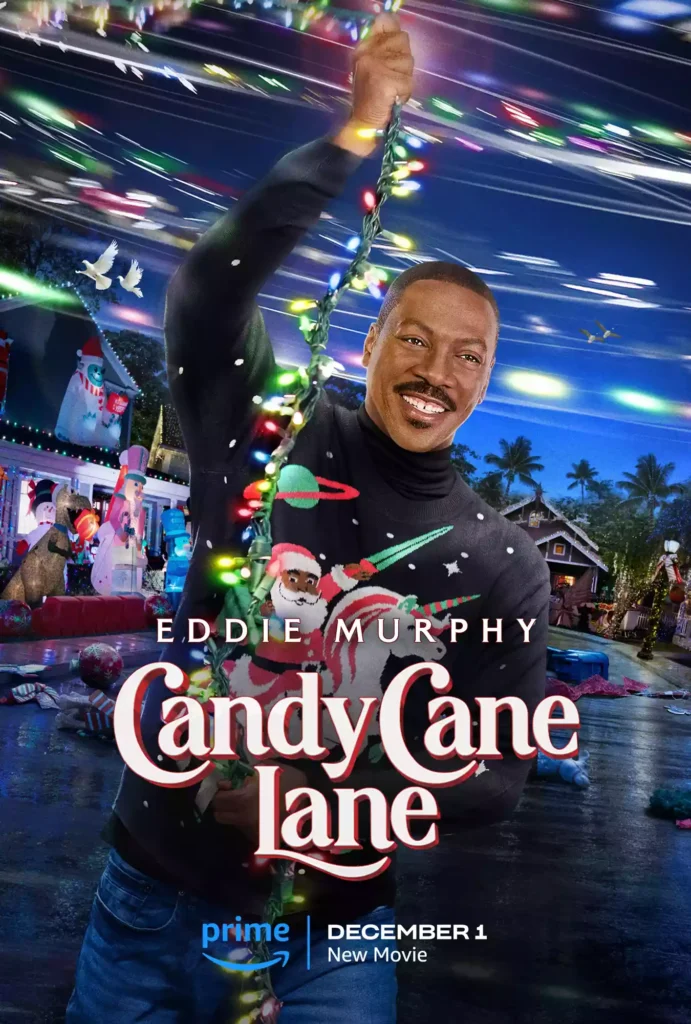 Poster for Candy Cane Lane (2023). PHOTO: PRIME VIDEO
The director added that Murphy "and this hilarious cast really bring the funny."
"It's super Christmas-y, and it will hit you right in the feels," Hudlin said.
Candy Cane Lane is on Prime Video Dec. 1.