Hardware: Cowan & Thomas Reveal a Dangerous Future Ahead for Curtis
Milestone's Hardware writers Denys Cowan and Brandon Thomas detail the series' third issue and tease possible crossovers in the series' future.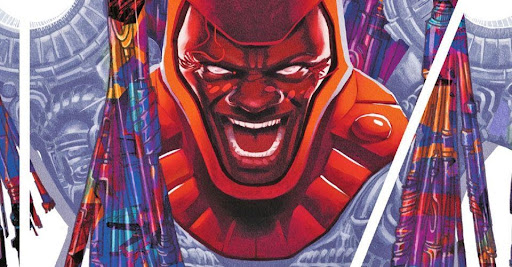 Created in the mid-'90s, Milestone Comics sought to add diversity to the comic book world. The DC Comics imprint returned to the spotlight in 2021 with all-new "Season One" reboots of their most popular characters in titles such as Hardware, Icon, Static. With the recent announcement of a Blood Syndicate series, fans both old and new are excited to experience the innovation and originality that sets Milestone apart from other comic publishers.
Denys Cowan, one of the founders of Milestone, returned to draw one of the characters he co-created in Hardware: Season One. Alongside writer Brandon Thomas, Cowan participated in a roundtable discussion attended by CBR to discuss future plans for Curtis Metcalf and his armored alter ego, and expounded on some of the actions seen in Hardware #3.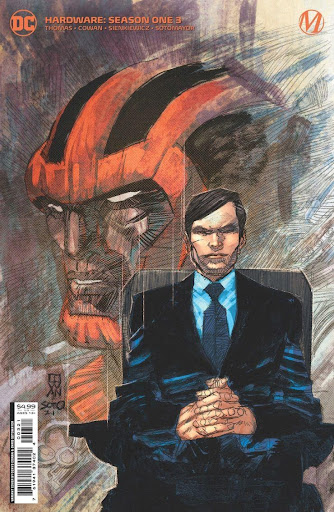 Although the characters of the Milestone Universe have thus far remained in their own worlds, for the most part, there have been signs of potential interaction between the different heroes, most noticeably in relation to Hardware and Static. Cowan all but confirmed that there would be more of this in the future, sharing, "There are plans for the different characters to meet eventually. But we don't want to do everything right away. We want to establish these characters in their own worlds first."
"People love crossovers because they're so much fun," Thomas added cryptically. "I'm looking forward to doing some of that in the future. I don't know if I can say just how near that future is, but it's what I want to see, so I'll just leave it at that."
"People are still talking about 'Worlds Collide,' where we crossed over into the DC Universe," Cowan added. "I've heard them mention that the Dakotaverse doesn't usually merge. But fans also look at how we did 'Worlds Collide' and are hoping to see more stuff like that. So mergers and crossovers are always on our minds, but we have to be conscious of how we do it. We don't want our characters coming off looking like they're less than any other characters in the universe, so we have to make sure they're positioned the right way. 'Worlds Collide' was [Milestone co-founder] Dwayne Mcduffie's story. He just pointed me in the direction he wanted me to go."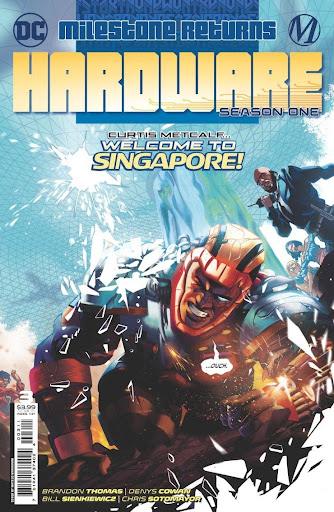 When asked about the positive critical response the relaunches garnered, Thomas displayed sobering humility. "I always want to do better," the writer admitted. "I appreciate that people are enjoying the book as it is right now, but my goal is for the third issue to be better than the first issue, and that can be really hard to do. I usually take a little time on release day to check out some reviews here and there. The good thing is that right now I don't really have the time to do that anymore, which is probably better for me because I'm hard enough on myself."
Thomas gave an example of the drive he feels to continue growing in his craft. "There's a specific page in Hardware that I was really upset with myself over," he said. "Dennis knows all about it. And that's just my personality. I can't let that stuff go. I'm going to be talking about that page until the end of time."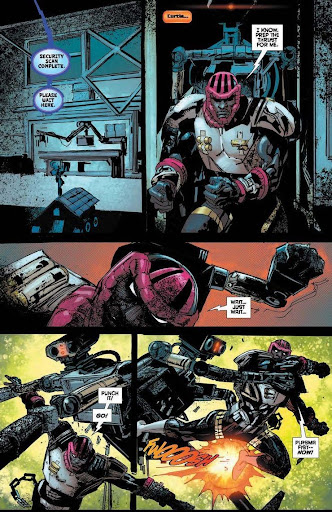 When asked about why he chose to take his character to Singapore in Hardware: Season One#3, Thomas revealed, "I'm obsessed with the architecture of Singapore. Take for example their airport. They have an indoor waterfall inside the airport! The audacity of that kind of architecture feels very superhero-like because this stuff feels like it shouldn't even exist. The same goes for Tokyo, which looks and feels like a cartoon city. I've always liked the look and feel of those places, and when we decided that Curtis was going overseas for this part of his adventure, I instantly thought he should go to Singapore… I wanted to see Dennis draw it, and it came out great! There's more cool stuff coming out of that part of the story!"
Thomas described how he wanted this version of Curtis Metcalf's Hardware to be portrayed. "I want him to come across as someone who is very comfortable in his own skin," he shared. "He is very self-assured, but not in an obnoxious way like Tony Stark. There is something about him that is very no-nonsense. In this version of Hardware, where his identity is not concealed, he feels more selfless. He also has a take it or leave it type of attitude, like he knows beyond a shadow of a doubt who he is and what's important to him. He's drawn boundaries around himself, and is very clear about what happens when those boundaries are crossed."
Hardware's self-imposed boundaries are definitely crossed in the new series, particularly in the actions of primary antagonist Edwin Alva, and Asher Sim, a former partner of Alva's whose loyalties are brought into question in the third issue. All of this will expose these characters to a side of Metcalf that they certainly don't want to see and presents the question of whether Hardware can really be considered a hero in light of his extremely aggressive methods.
"Hardware is a good guy… But he's a little dangerous," Thomas clarified. "There's an edge to him, and you don't want to get on his bad side. That's the Curtis I'm trying to portray: a person who is as comfortable in his lab in Dakota as he is in Singapore interacting with Asher and going head to head with Alva. This is leading up to some really cool stuff, like the reintroduction of a big-time Hardware villain who will be returning shortly and causing big problems going into the end of this arc."
Hardware: Season One #3 by Brandon Thomas, Denys Cowan, Bill Sienkiewicz, and Rob Leigh is on sale on Nov. 30 from DC Comics.