Justice served: 'Marshall' biopic has right focus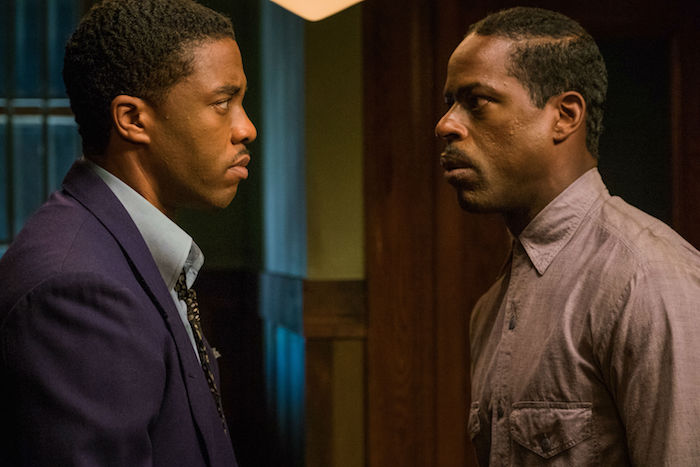 A mistake many biopics make is the need to show the audience everything: childhood, adversity, ascent into greatness, downfall (sometimes), and the inevitable coda where the lesson of the person's life is hammered over our head.
Using this formula, a singular talent is reduced to a Hollywood stereotype. The set-up leaves no time for the film to explain historical context as to why the person is important in the first place.
Smarter real-life portraits — like Reginald Hudlin's "Marshall" — find a crucial moment in the figure's life and dig into the details that helps the audience understand the subject's importance. Through this snippet of time, if done correctly, the film tells us what we need to know without submitting to hyperbole and melodrama.
In this film, future Supreme Court Justice Thurgood Marshall (Chadwick Boseman) is introduced as a crusading attorney for the NAACP. Seeking out innocent criminal defendants prosecuted because of their skin color, Marshall learns of a case involving Joseph Spell (Sterling K. Brown), accused of raping an affluent white woman (Kate Hudson) in upscale Maryland.
This is pre-Brown v. Board of Education, and Marshall is the organization's only attorney. He teams up with reluctant local counsel Sam Friedman (Josh Gad), goaded into the case by his law partner and brother despite misgivings about his professional reputation. The unlikely duo tracks down evidence, faces intimidation and violence, and contends with a criminal justice system that stymies their client's rights at every turn.
"Marshall" chooses not to focus on the titular character's sweeping civil rights victories or his historical role as a jurist, but rather on his skill and intuition as a litigator. Perhaps Hudlin picks this court case because it reminds the audience of "To Kill a Mockingbird." The contours of the case won't be much of a surprise. In fact, the case is regrettably routine for the time period and, in and of itself, isn't all that substantial.
What is surprising is the film's attention to Marshall's efforts to prep witnesses, raise objections, and compose closing arguments. The film wisely shows the importance of picking your jury — knowing which questions to ask in voir dire and reading body language. A good lawyer understands a case can be won or lost at this stage.
Most films find these details boring, but "Marshall" understands such nuance is not only compelling to a courtroom drama but paints the portrait of Marshall's great legal mind. By understanding why he was such a great lawyer, the film shows why he was great in other aspects of his life.
While he's best known for early '90s comedies like "House Party" and "Boomerang," Hudlin proves he can take a seemingly irrelevant snippet of Marshall's career and use that to extrapolate larger understanding.
Boseman also does a great job of embodying the character without presumption. There's no swagger, no grandeur signaling "this is a future Supreme Court Justice." This is a job, a larger calling to justice not yet fully formed.
The actor can add this to his stunning roster of historical performances. The film "42" didn't aim for much, but Boseman's Jackie Robinson depicted a man who could not act on his anger for threat of derailing his greatness. The James Brown biopic "Get On Up" had no business being as good as it was. Boseman embodied the Godfather of Soul as a savvy, if not somewhat unhinged, showman.
Gad's Sam Friedman is revealing for the comic actor as a man conflicted about fitting into his community despite swirling anti-Semitism. This adds another interesting layer of conflict to the film. Finally there's Missouri native Brown as the criminal defendant. After his turn as Christopher Darden in "The People vs. O.J. Simpson," I'd watch him in just about anything.
"Marshall" might come off as slight to someone wanting a full-blown look at this man of great influence. But a discerning eye reveals a lot more interesting detail that makes the film worth catching.
In real life, James Owen is a lawyer and executive director of energy policy group Renew Missouri. He created/wrote for Filmsnobs.com from 2001-2007 before an extended stint as an on-air film critic for KY3, the NBC affiliate in Springfield. He was named a Top 20 Artist under the Age of 30 by The Kansas City Star when he was much younger than he is now.