REGGIE HUDLIN AT THE CLIPPERS GAME WITH KAWHI LEONARD BLACK PANTHER BOBBLEHEADS!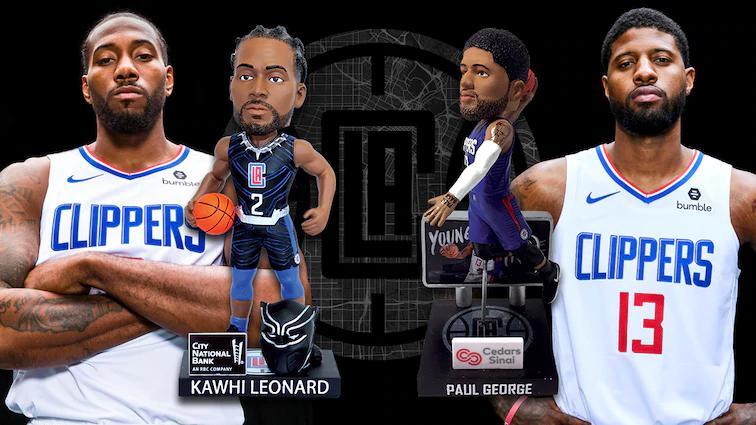 Today the L.A. Clippers announced that limited-edition bobbleheads will be available exclusively to a select number of fans attending Clippers home games on February 5th against the Miami Heat and March 1st against the Philadelphia 76ers.
For the team's February 5th game, the Clippers have collaborated with Marvel to create a limited-edition bobblehead featuring Kawhi Leonard portrayed as Black Panther that will be available to the first 10,000 fans attending the game. The bobblehead, which is presented by City National Bank, the official bank of the L.A. Clippers, sits on a pedestal that features the Clippers logo, City National Bank logo and the Black Panther mask, and Kawhi in the Clippers' black statement jersey with accents of the Black Panther's suit weaved throughout the jersey's design. Each fan who receives a bobblehead will receive a unique redemption code for a free digital Marvel comic. In addition, City National Bank will host a pre-game conversation for Clippers Courtside MVPs with Reginald Hudlin, a contributing writer to the Black Panther comic book series.
On March 1, the first 10,000 fans to enter the arena will receive an exclusive Paul George bobblehead, courtesy of Cedars-Sinai the official health partner of the L.A. Clippers. Paul's bobblehead sits on a pedestal that features the Clippers logo and Cedars-Sinai logo, and the "Young Trece" billboard that has been displayed across L.A. Paul is wearing the Clippers' blue icon jersey and the black and white colorway of his recently released "PG4" Nike signature shoe. The "PG4" is the fourth edition of his signature shoe and is available at retail, globally, on January 24.
To purchase tickets for either of these games or any upcoming Clippers' home games, fans can visit www.clippers.com.