SAFETY DEBUTS DECEMBER 11!
Exclusive: Reginald Hudlin Speaks On Positive Black Male Representation And His New Disney Film 'Safety'
Global Grind: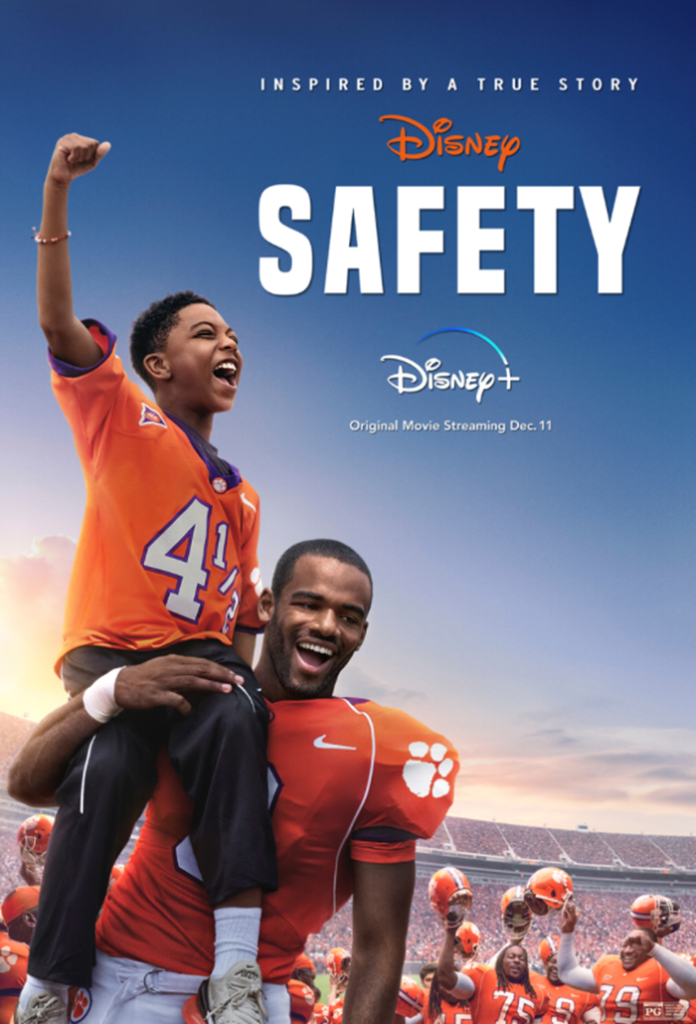 Source: Courtesy Walt Disney Studios / Walt Disney Studios
Disney just unveiled the trailer for their newest film, SAFETY, a drama inspired by the empowering story of former Clemson University safety, Ray McElrathbey, which will premiere on Disney+ December 11. Global Grind's Sr. Content Director Janeé Bolden interviewed Oscar® nominated director Reginald Hudlin (HOUSE PARTY, DJANGO UNCHAINED, MARSHALL) about the movie. Watch the trailer below then continue reading for the exclusive Q&A.
Disney's "Safety" stars Jay Reeves (ALL AMERICAN) and is a drama inspired by the empowering story of former Clemson University safety Ray McElrathbey, a young man facing a series of challenging circumstances, whose dedication and persistence help him to triumph over repeated adversities. Aided by his teammates and the Clemson community, he succeeds on the field while simultaneously raising and caring for his 11-year-old brother Fahmarr.
"It was great because Ray was there," Hudlin told Global Grind about recreating McElrathbey's story for the screen. "He's still a young man, he was on set, he was working with the actors; they would workout together, they would party together and he was just a fantastic resource for all of us. It's the kind of story where if it weren't a true story you'd all go, 'That's ridiculous, that's unbelievable,' so having him there to make sure that we were being true to the true elements of his story made the whole process better."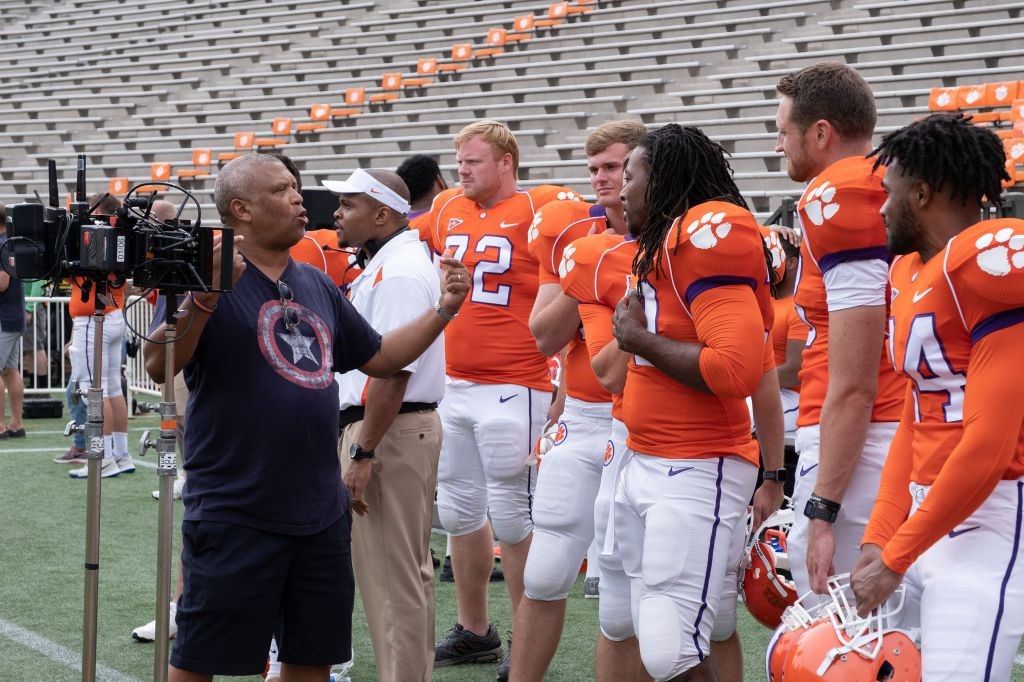 Source: Courtesy of Walt Disney Studios / Walt Disney Studios
The project stars Jay Reeves as McElrathbey and Hudlin said the actor's athleticism was just as pivotal as his acting chops in securing the role. 
"We just wanted the best people" Hudlin said of the casting process. "We had a two part audition where they would come and read the scenes and then we would come back and have them audition on a football field, so we were like, okay let's see if you can do this. Everyone you see in the movie, they can run, they can catch, they can throw. We wanted real athletes and not Hollywood fakeness. I think that's one of the reasons why everything reads very real because we wanted real people who could do real things." 
One of the biggest reasons we're excited about 'SAFETY' is because the film offers such a positive representation of young black men. 
"It's very important to me," Hudlin said of the powerful way the film portrays the McElrathbey brothers and their story. "That's been sort of my agenda throughout my career, whether it's been 'House Party' or 'Boomerang' or 'Marshall' or 'The Black Godfather,' or this movie or 'Django Unchained.' I want to show the full humanity of black life and particularly black men who tend to be either stereotyped or dismissed and I thought this movie was a really beautiful movie because it was a true story about brotherhood."
"So many young people are caught in situations where they are on their own and they have to make hard choices and do the impossible. Ray found a way out of no way and he figured out how to save himself and save his brother and he inspired his team, he inspired his whole community and I think that's a message that our whole society needs right now."
We also had to ask Hudlin about his recent role producing the Emmy's during COVID. Despite the challenges presented, Hudlin and his team proved they were up to the task.
"It's tough because you have to be safety first," Hudlin told Global Grind about production using COVID protocols. "Fortunately over the past couple months, we've developed a set of protocols that you can work in a somewhat limited way and still be safe. I've been able to do some specials like the Emmys and do good work and at the same time make sure that everyoen is safe. It requires some creativity and some flexibility but we got that. I'm very encouraged by President Elect Biden putting together a team of actual scientists, and hopefully we can create a new national program so we can beat this pandemic back the way other countries have around the world."
Chadwick Boseman is among the many accomplished actors who have appeared in Hudlin's projects, so we had to ask the director, who was also a friend to Boseman, about the legacy he left behind. 
"He was an incredible human being and a great actor, but beyond that just a person you wanted to be around," Hudlin described Boseman to Global Grind. "A person of incredible intelligence, a person with integrity, a person who cared about his community, who cared about art, he attracted the best collaborators around him because of who he was. It was an incredible loss to lose him so young."
Before ending our interview, we made sure to let Hudlin know how his projects have impacted us, particularly "The Boondocks," which really profoundly addressed the racial issues in the U.S. that continue to impact us today. 
"It's very important to have a place to do sophisticated black comedy, for parody and sarcasm," Hudlin told Global Grind. "That's a very important and healthy way of critiquing where we are as a culture. I think those are good tools for people who are trying to figure out what the heck is going on. Thank goodness we had the election and we had a landslide and we are going to have new management. I have tremendous confidence in the incoming administration."
We love Reginald Hudlin's work and can't wait to see 'SAFETY!' Are you excited for December 11th? Disney+ stays winning riiiight?!
New trailer for Disney+ drama Safety gives an inside look at the story of Ray Ray McElrathbey
Director Reginald Hudlin tells EW about the connection he felt to the story of former Clemson cornerback Ray Ray McElrathbey.
Entertainment weekly:
By Omar Sanchez 
November 13, 2020 at 12:10 PM EST
In 2005, a young athlete by the name Ray Ray McElrathbey went to Clemson University to play football. Fifteen years later, his inspirational story of overcoming financial and emotional hardship is coming to Disney+.
Safety — which hits the streamer next month — stars Jay Reeves (from CW's TV sports drama All American) as Ray Ray McElrathbey, Thaddeus J. Mixson as his younger brother Fahmarr, and Corrine Foxx as Kaycee, McElrathbey's love interest. 
The film is directed by Reginald Hudlin (Marshall and Boomerang). Hudlin is a former president of BET who has an Oscar nomination for producing 2012's Django Unchained.
Hudlin told EW he was compelled to direct Safety as a way to tell an inspirational story of someone getting out of "an impossible situation" through his own inner strength and the support of the community around him, in this case, the town of Clemson, S.C.
"Clemson is a very specific culture. It's a school with an incredible legacy of winning football teams," Hudlin says. "It also has a legacy of having a family spirit that you see in action in the course of the film."
Hudlin was immediately drawn to Ray's triumph — a tale of overcoming "barriers that don't stop coming." Hudlin also saw parallels to his own story of overcoming the odds. Hudlin is from Centreville, Ill. — currently, a population of just around 5,000, although he mostly grew up in East St. Louis, he says. "Coming from a small town, being thrown into a high-pressure environment and that feeling of treading water. I know the feeling when failure is not an option."
Safety follows a line of inspirational sports movies that can fit a holiday weekend binge, including classics like Remember the Titans and Brian's Song. This time the movie will be premiering on streaming, a way for Disney+ to capitalize on families flipping through streaming services during the winter season. 
"My hope is that throughout the Christmas holidays, folks can get together and watch Safety. After a big meal, everyone can go watch it and have a good time," Hudlin says.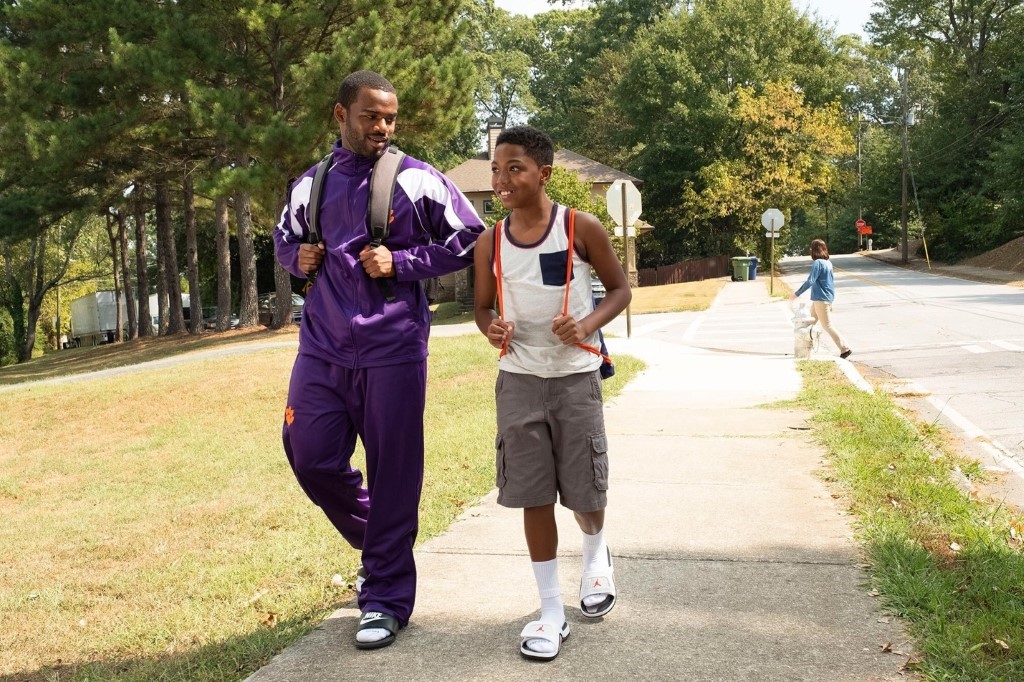 CREDIT: CHUCK ZLOTNIK/DISNEY +
Watch the first trailer above. Safety premiere on Disney+ on Dec. 11.
Exclusive: Reginald Hudlin On Directing Football Drama 'Safety'
Blackfilmandtv.com:
Nov 13 , 2020
Written By Wilson Morales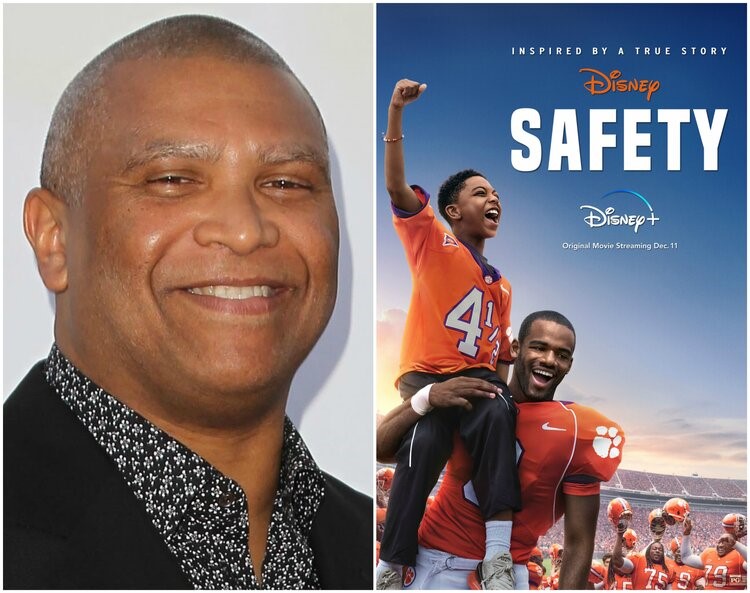 Coming to Disney+ on Friday, December 11, 2020 is its new film, "Safety", inspired by the empowering true story of former Clemson University football safety Ray McElrathbey, a young man facing a series of challenging circumstances, whose dedication and persistence help him to triumph over repeated adversities. Aided by his teammates and the Clemson community, he succeeds on the field while simultaneously raising and caring for his 11-year-old brother Fahmarr. "Safety" will debut exclusively on Disney+ on Friday, December 11, 2020.
Directing the film is Oscar nominee Reginald Hudlin ("Django Unchained," "Marshall"). Mostly seen as a producer on numerous projects from films, TV programs and live events including the 72nd Primetime Emmy Awards, it's rare that he steps into the director's chair for films. He recently directed the The Black Godfather and prior to that was Marshall starring Chadwick Boseman.
BlackFilmandTV.com recently spoke with Hudlin on his experience with Safety and bringing this story for a mass audience.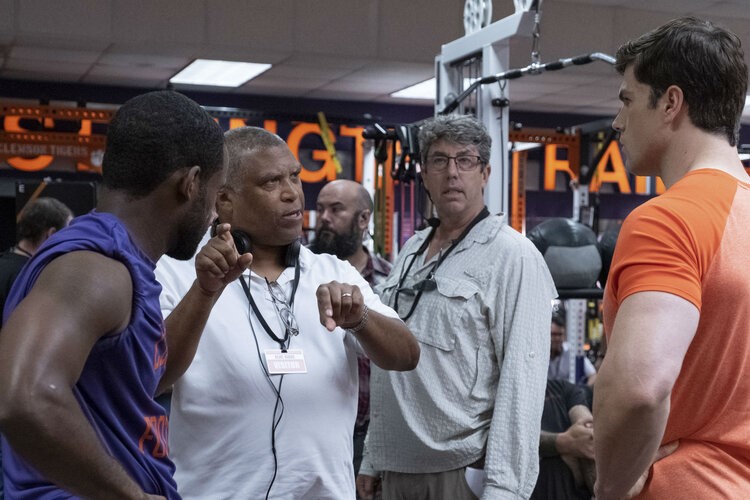 What went into doing this movie?
Reginald Hudlin: I love the script. I read it. I was like, "Oh my god, this is crazy." My wife saw me pacing around the house after 20 pages, she goes, "What's up?" I said, "this is good." Around 40 pages later, I'm pacing again and said "I'm thinking of going to work." That was it.
You're more known as a producer and you don't switch hats to directing that often, so what was it about this that made you said, I'm going to get behind this one?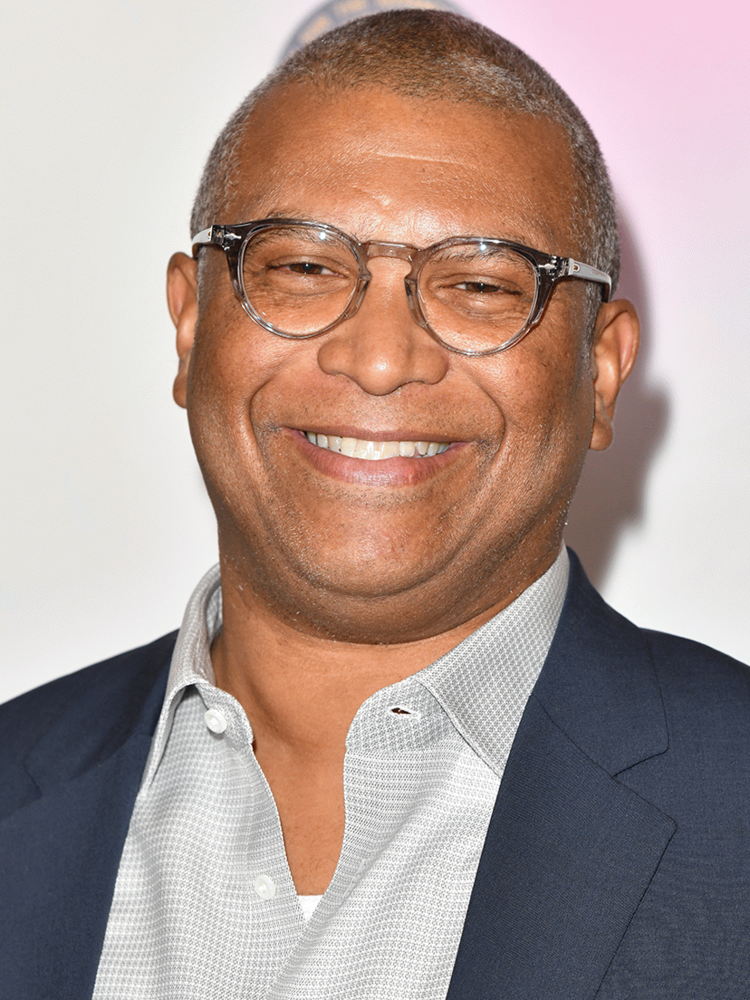 Reginald Hudlin: It was incredibly entertaining to me. I just read it non stop. I didn't stop and make a sandwich in the middle of it. I was inspired by his story. I felt like this is a message that the public needed right now. So if you could do all three of those things in a script, that's a movie you should make.
When you making a sports story, people always want to see action scenes. Was this all new to you as far as what you wanted to do behind the camera?
Reginald Hudlin: Well, it was really exciting to make. I had not done a sports movie in a while since Great White Hype. I've never done a football movie. But there are a couple of football movies that were really inspirational to me. Any Given Sunday by Oliver Stone, and Friday Night Lights. Those two movies were beautifully done. When you look at Friday night football, It's so well shot. It's really great. So when you make a movie about it, you're like, "What are we going to deliver in terms of a visual experience? That tops what people see, when they watch football?" That's a really high bar. I got together with my team, my director of photography, sports coordinator and with my AD. We really plotted this thing out very carefully. What really makes me happy is when people see the movie, who are athletes, they go, "Wow, you actually got it right. I played football in college, I played pro football. Normally I'm mad watching these movies, but you actually nailed it, Reggie." That gives me great relief, great joy.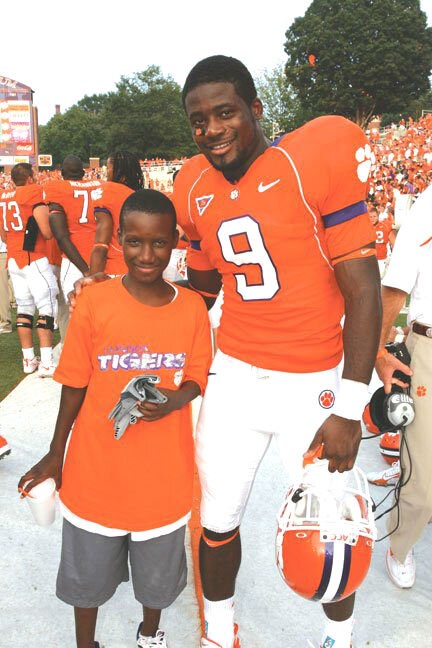 It's not just any film, it's a true story about Ray McElrathbey's life and he's still alive. How did you work in getting his story and his persona to translate on a screen?
Reginald Hudlin: It was really interesting, because he still a young man, and he was there the entire time. He was there, hanging out with the actors. He was there talking to us about his real life. He was a presence and a resource that we pulled on all the time. He understands with movies, that everything's not going to be exactly the same. We all want to make sure that we were true to what was really important about his life experience. That then made the movie richer to me, because he has one of those lives that if you made it up, would not be believable. So it only works because it's a true story.
Can you talk about putting together the cast?
Reginald Hudlin: We had to get actors who were really good, young actors who were really good. We didn't want to do resort to any cheap Hollywood tricks. We wanted folks who would get out there and could really catch and really throw and really run and really hit. And that's what we got. People auditioned, and they read the sides, and then we took them out on the field. You had to do both. That's why I think we have authenticity in the film.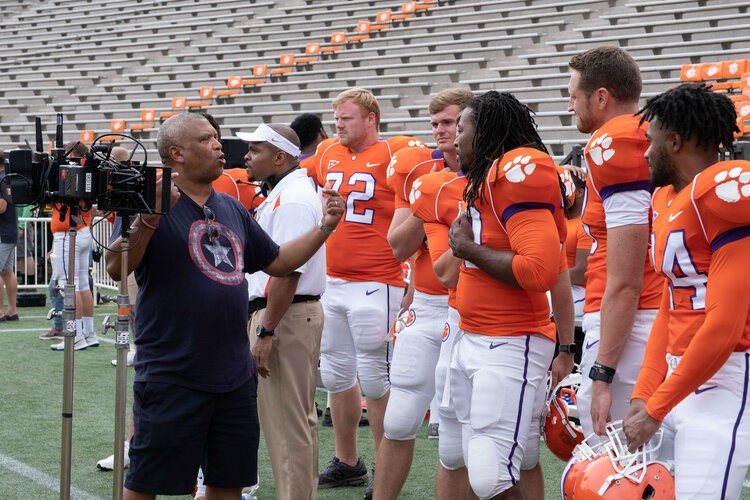 Between producing films and documentaries and other events, what goes into saying yes to the projects you take?
Reginald Hudlin: Do I really want to do it? Does it looks like fun? Does it look like a challenge? Is it a statement that needs to be made right now in terms of what's going to make our society better? I weigh all those factors. This did. It checked every box and made me excited to think about making it and the people I was working with the whole production team were all good people.
Being that the film will be on Disney+, did you direct it differently, knowing the platform is going to be on?
Reginald Hudlin: Not at all. My thing is, people watch movies in all places. They watch them on a big screen, they watch them on TV, or they watch them on their phone. I'm not going to pander or shrink my vision just because it's going to debut on television. So many people now have giant screens, and great surround sound. I shoot my movies, and I mixed my movies with the idea that it's a movie.
What did you think of last Saturday's game against Notre Dame and Clemson losing?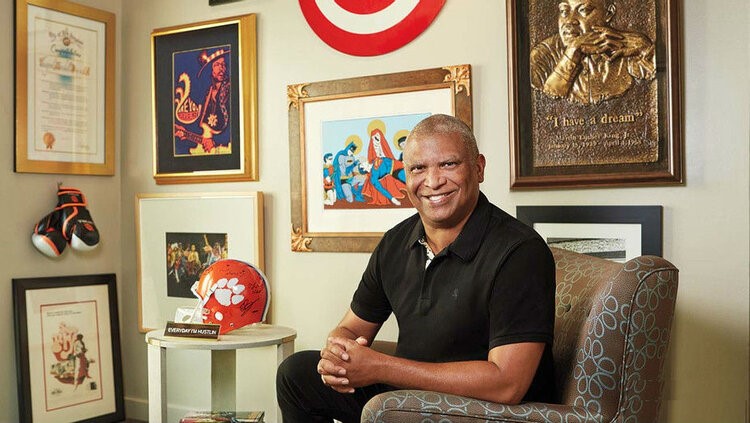 Reginald Hudlin: Look, they have a long history of winning. In any given game, you can win and you can lose. It's heartbreaking, but when you're there at their stadium, and you see all the national championships they racked up, you just go, "Yeah, these guys are, they're a machine. They're incredible."
Are you a big football fan?
Reginald Hudlin: I'm not a big football fan. I like football. The thing about this movie is that if you're a football fan, you're going to love it. But if you're not a football fan, you'll love it. We've shown this movie to people who were not into football.. And you know, they care about the characters you know their lives. You know, for me this is that category of football movie or sports movie, you know, not unlike you know, I don't know if you know "Brian's Song" or whatever. But it's like it's a you know, it's sports is to humanity that sports brings out a good