This article was posted on the Sumner High School website. Sumner was one of the high schools built during segregation for black students which became a place for great teachers and students.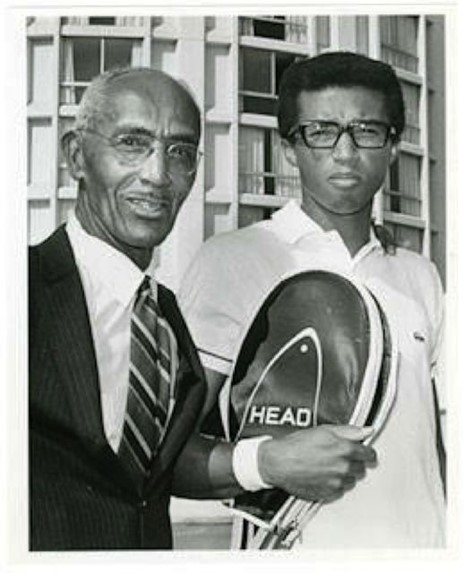 RICHARD HUDLIN – TENNIS CHAMPION
A legendary teacher at Sumner High School. Sumner was one of those legendary high schools that black communities often had that educated generations of high achievers.
Richard Hudlin played tennis for the University of Chicago from 1926 to 1928. He served as captain of the 1928 team, establishing himself as the first African-American to serve as captain of a tennis team at a "Big Ten" college. This accomplishment is made even more remarkable when one realizes that Richard was the only Black man on the team from 1926-1928.
But, he didn't stop there. In 1945 he filed a lawsuit against the MUNY Tennis Association of St. Louis to open public tennis facilities to all players, most particularly to players of color. He won the legal battle, thus enabling Blacks to participate in tournaments at St. Louis municipal facilities.
Champions Althea Gibson and Arthur Ashe spent time with Mr. Hudlin in St. Louis honing their skills at the Armory tennis courts. On the slick, lightening-fast wood surface Arthur was transformed from a back-court player into a serve-volley specialist, a game that would serve him well during his professional career. Arthur completed his final year of High School at Sumner High under Mr. Hudlin's tutelage.
Mr. Hudlin was a champion as well as a champion maker. He was a teacher, leader, mentor, supporter, donator and defender.
Althea Gibson became the first African American player of either gender to be allowed to compete in both national and international tennis competition.
Ms Gibson wasted little time in justifying tennis' wisdom in granting her the right to play. In 1956 she became the first African American to win a grand slam, the French Open. The following year, she won Wimbledon. She repeated as Wimbledon champion in 1958.
Arthur went on to become a three-time grand slam champion. He is still the only black American male to win a slam. He won three, Wimbledon, the U S Open, and the Australian Open.
Richard Hudlin passed away in 1976, living long enough to see both Althea Gibson and Arthur Ashe win the U.S. Open and the prestigious Wimbledon titles.