Movie Events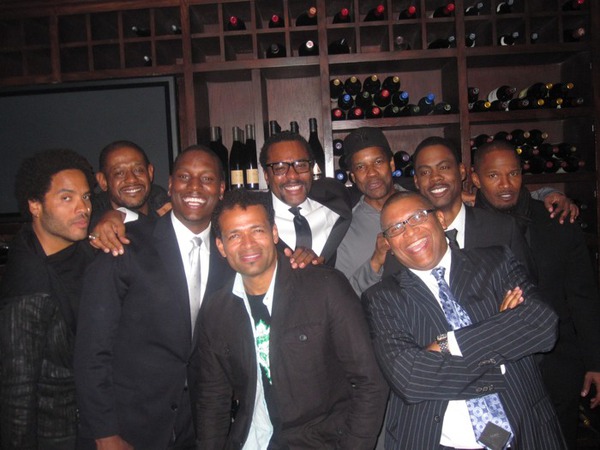 Top Ten Movie Events of 2009
10. BLACK FILM – OF ONE TYPE OR ANOTHER – IS BACK
Looking back, weirdly enough, the first good year for black films in a long time. Some were by black filmmakers, some were just about black people, some were elaborate metaphors on race. Some made money; others didn't, but nice to have this many films worth talking about.
How many? Let's see, in the Oscar race alone, there's PRECIOUS, INVICTUS, INGLORIOUS BASTERDS, DISTRICT 9, AVATAR, THE BLIND SIDE and PRINCESS AND THE FROG.
There are black people nominated in an amazing number of categories, including best picture, best director, best actor, best actress, best supporting actress, best animated feature and best adapted screenplay.
And then there are movies that should have been nominated but didn't. Just in the documentary category alone: MICHAEL JACKSON: THIS IS IT; GOOD HAIR; TYSON; AMERICA THE BEAUTIFUL. All great films.
And how about indie movies like BLACK DYNAMITE and MEDICINE FOR MELANCHOLY? And I haven't even listed movies from Tyler Perry and movie stars like Denzel and others. Any way you count it, there was a lot of black folks in the movies in 2009.
9. GREAT POPCORN MOVIES
STAR TREK, THE HANGOVER, SHERLOCK HOLMES and THE BLIND SIDE all provided a good time at the movies. If you didn't like them, I can't sell you on them. It's its fun to you or not. If you were looking for popcorn movies with fiber, there was DISTRICT 9, AVATAR and THE HURT LOCKER, which were also entertaining, but led to interesting conversations later.
8. PRECIOUS
A Cinderella Story of a film about a Cinderella Story, this movie is a real event above and apart from the film itself. The historic Oprah/Tyler collab, the continuing debate over the depiction of black life, the historic number of Oscar nods…it's the most impactful black film of the year.
7. BLACK DYNAMITE
The black exploitation film era deserved a loving tribute like this.
6. AMERICA THE BEAUTIFUL
An amazing documentary about the beauty industry that just hit DVD after a run on the festival circuit. Required viewing.
5. GOOD HAIR
Chris Rock's best film. The controversy over the film is fascinating to me. My take on it is women didn't like feeling like they were the butt of the joke. They wanted a "serious" film that indicted men – black and white – for forcing these standards of beauty on them. Ignoring that in the 1970s afros were such a popular hairstyle that even white folks wore them. Ignoring that women get men to do stuff they don't want to do all the time. Do they really think that if black women went natural with their hair we wouldn't still be pursuing them? Really?
I get that if you've never realized you're ruining your credit by going into debt supporting your weave habit, if you never thought that putting relaxer on your 3 year old's head is a bad idea both medically and psychologically, this movie could be a real shock to the system. And you can take the red pill or the blue one. But don't hate the messenger.
4. TYSON
Simple but powerful feature length testimony of Mike Tyson about his life. His self awareness is amazing. I actually thought it was too short. I wanted more.
3. CAPITALISM: A LOVE STORY
CAPITALISM: A LOVE STORY is not a good movie, it's a great one, and it should be mandatory viewing for every American. I'm tempted to say it's Moore's best film, but I don't want to denigrate the memory of seeing ROGER & ME, BOWLING FOR COLUMBIE and FARENHEIT 9/11 for the first time. But the scope of the film is so vast, the information is presented in such an accessible manner, and his growth as a filmmaker is so clear, it feels like a career summary.
2. THIS IS IT
One of my favorites of the year, and an important document that redeems the artistic reputation of one of the all time greats. I love movies about the creative process, and this is a wonderful one. And NO movie has more quoteables than this one – "I'm simmering"; "how will you know when to turn Michael?/I'll feel it"; "play it the way I wrote it"; "with love L-O-V-E"….the list goes on.
1. INGLORIOUS BASTERDS
Still best picture of the year to me. I just want to see the other part of the movie he wrote but didn't make – the one about the black platoon that's just as kick ass as the Jewish one.
There's the list and that's not counting:
ALL THE GREAT MOVIES I DIDN'T GET TO
There's a stack of awesome international and independent films on my shelf. I feel guilty when glance over there. I'm sure several of them would end up on this list if I had watched them. Too busy watching TRUE BLOOD and TOSH.O.