NAJEE'S NOTES: Looking Forward To A Night Of Music At The Hollywood Bowl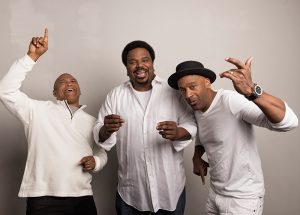 One of the best African-American musical events in the nation and the current hot topic talk of music fans who reside in South Los Angeles is back for a third year.
Black Movie Soundtrack III returns to the Hollywood Bowl Sept. 25, with Oscar-nominated Reginald Hudlin and Grammy Award-winner Marcus Miller serving as musical director and presenting the best in black film music. Craig Robinson, one of the most talented comedians in Hollywood, will serve as host. I attended last year's concert, which was also held at the Bowl and included performances by Common, Babyface, Lalah Hathaway, Earth Wind and Fire and I had the time of my life.
For those South L.A. residents who have never attended this musical event, it's different than a jazz or musical concert. Black Movie Soundtrack III will feature themes, scores and songs that have set the tone for eight decades of black cinema with Chaka Khan, Charlie Wilson, El DeBarge, Meshell Ndegéocello, Raphael Saadiq, Dionne Farris, BeBe Winans and more providing the vocals and the Hollywood Bowl Orchestra coming through with the musical backing for the tracks.
As a dedicated music fan, what's most exciting for me is Hudlin's continued collaboration with Miller who as a jazz composer, producer and bass guitarist is a musical icon. Miller has won several Grammy Awards over the years as a producer and worked with trumpeter Miles Davis, pianist Herbie Hancock, singer Luther Vandross and saxophonist David Sanborn, among others.
Miller first came to my attention in 1984 with his performance on Sanborn's track performed live called "Straight to the Heart." Sanborn gives Miller a shout out at the conclusion of that track for writing the song which to this day I play weekly on my playlist.
Miller was also a member of the Saturday Night Live band in 1988 and 1989 and has played bass on more than 500 recordings, including those of Luther Vandross, Grover Washington Jr., Roberta Flack, Carly Simon, McCoy Tyner, Bryan Ferry and Billy Idol.
He won the most valuable player award given by the National Academy of Recording Arts and Sciences to recognize studio musicians three years in a row and was subsequently awarded "player emeritus" status and retired from eligibility. In the 90s, Miller began to write his own music and make his own records, putting a band together and touring regularly.
As a composer, Miller co-wrote several songs on the Miles Davis album "Tutu," including its title track. He also composed "Chicago Song: for Sanborn and co-wrote "'Til My Baby Comes Home," "It's Over Now," "For You to Love," and "Power of Love" for Luther Vandross.
In addition, he composed and provided spoken vocals on "Burn it Up," which was featured on Najee's 1992 album "Just An Illusion." Miller is without question a musical icon. I'm excited to see what he and Hudlin have in store for us at this year's Black Movie Soundtrack III.
For more information, contact www.Hollywoodbowl.com.